Sharp's Default Risk Drops on Possible Rescue by Apple Supplier
Grace Huang and Pavel Alpeyev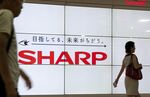 Sharp Corp.'s bond risk retreated from a two-year high on a possible rescue from Apple Inc. supplier Foxconn Technology Group and the potential for government aid.
The cost to insure the Japanese television maker's debt against non-payment was 551 basis points last week, according to credit-default swap data from CMA. While that's still the highest in Japan, it is 300 basis points down from the March 3 peak. The average cost for Asian technology companies was 106.
Sharp's shares got a boost last week after a person familiar with the matter said the company plans to ask a government-backed fund for help spinning off part of its liquid-crystal display business. Foxconn, which earlier backpedaled on a plan to buy a 10 percent stake in Sharp, said an investment is still possible provided it gets a say in management of a company heading for its third annual loss in four years.
"Foxconn's investment or government involvement would reduce the risk of default," Yusuke Ueda, director of the credit research group in Tokyo at Bank of America Merrill Lynch, said by phone on April 9. "A holding company structure would also allow Sharp to shield itself from a bankruptcy in the display business."
Sharp's stock jumped the most in more than a year on April 6, after the person said the company is seeking investment from government-funded Innovation Network Corp. of Japan to form a subsidiary for displays used in smartphones and tablets. Spinning off part of the business will make it easier to track performance and make faster decisions, the person said.
Foxconn Deal
A disagreement over terms is holding up a Foxconn deal. Sharp has said it would like to restart talks for an investment at 550 yen ($4.56) per share as agreed in 2012. The stock closed at 250 yen in Tokyo on Monday.
Foxconn is still exploring a partnership opportunities with Sharp and will invest depending on whether it can "participate in business management,"the Taiwanese company said in an April 3 e-mail.
Among the options being discussed is a debt-for-equity swap, people familiar said in March. Sharp President Kozo Takahashi was to meet with lenders Mitsubishi UFJ Financial Group Inc. and Mizuho Financial Group Inc. last month, said one of the people.
Bank Support
"Sharp must come up with a restructuring program that will convince the banks," Toshihiro Uomoto, the chief credit strategist at Nomura Holdings Inc. in Tokyo, wrote in a report dated April 6. "Getting an investment from the government-backed fund could also make it easier for the banks to support Sharp."
Mizuho and Mitsubishi UFJ lent the company 360 billion yen in September 2012, and 150 billion yen more the following year, according to its 2014 annual report.
Miyuki Nakayama, a spokeswoman for Sharp, declined to comment on the company's default swaps.
Sharp reported about 724 billion yen in net debt in its latest filing, the third-highest among global peers, after Toshiba Corp. and LG Electronics Inc., according to data compiled by Bloomberg. That compares with net cash of NT$267 billion ($8.5 billion) for Hon Hai Precision Industry Co., Foxconn's Taiwan-listed electronics assembler, the data show.
Bond Spread
The yield premium investors demand to hold Sharp's 1.604 percent bonds due 2019 was 534 basis points over sovereign debt. That's down from a record 2,107 basis points in 2012, Bloomberg-compiled data show. Japan's 10-year benchmark sovereign notes yielded 0.34 percent.
Sharp forecasts a 30 billion-yen net loss for the 12 months ended March 31 as its Aquos TVs lost market share to those from Samsung Electronics Co., LG Electronics Inc. and lower-cost makers based in China.
The Osaka-based company, named after the Ever-Sharp mechanical pencil its founder invented and marketed in 1915, has said it's considering drastic reform and will disclose a medium-term management plan in May.
"More important than the earnings is the mid-term plan," Bank of America Merrill Lynch's Ueda said. "The banks will probably want more drastic measures like layoffs. In the end, the banks alone won't be enough to cover Sharp's capital needs and it will need some real investment."
Before it's here, it's on the Bloomberg Terminal.
LEARN MORE