CJ Korea Express to Expand Into China to Grow Overseas Networks
Kyunghee Park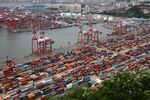 CJ Korea Express Corp., South Korea's biggest courier delivery company, expects operating profit and sales to increase this year as it seeks to expand into warehousing and distribution in China and Southeast Asia.
Operating profit may increase more than 10 percent this year, Yang Seung Suk, vice chairman of CJ Korea Express, said in an interview April 9. Sales are expected to rise to 5.5 trillion won ($5.03 billion), from 4.56 trillion won in 2014.
CJ Korea Express is actively pursuing overseas expansion through ventures and acquisitions as it aims to become one of the world's top providers of distribution and warehousing services. Its moves come as global parcel-delivery companies also are growing through acquisitions, with FedEx Corp. agreeing to buy TNT Express NV last week.
"Our priority right now is to focus on expanding into China and Southeast Asia," Yang said. "CJ Group has identified logistics as the new growth engine, and we plan to become a leading player in the field."
CJ Group, which is involved in businesses ranging from food processing to entertainment, restaurants and retail, bought Korea Express in 2011. The conglomerate's chairman, Lee Jay Hyun, is a cousin of Samsung Group heir-apparent Lee Jae Yong.
Shares of CJ Korea Express have declined 2 percent this year, compared with a 9 percent advance in the benchmark Kospi index. The stock fell 0.3 percent April 10 to 192,000 won.
Sales Target
The logistics company aims to increase sales to 25 trillion won by the end of the decade, with 70 percent coming from outside South Korea, according to Yang.
First-quarter operating profit is expected to increase "a lot," Yang said, without providing a figure. January-March operating income was 27.7 billion won last year and the average of 10 analysts' estimates compiled by Bloomberg is 48.2 billion won.
CJ Korea Express lost to Japan's Kintetsu World Express Inc. in February in its effort to buy the logistics arm of Neptune Orient Lines Ltd. of Singapore. That hasn't stopped the South Korean company from looking for other opportunities.
"To become a global player, you need to establish a good network overseas, and the most effective way is through acquisitions," said Shin Ji Yoon, an analyst at KTB Securities Co. in Seoul. "CJ Korea Express is expected to see some positive developments in China soon."
China Venture
Yang said the company is in talks to form a venture with a partner in China -- he declined to name it -- and expects to sign an agreement in the first half of the year.
CJ Korea Express is also planning to set up warehouse hubs in China's Shenyang, Shanghai and Guangzhou to attract business from Chinese companies, Yang said.
Currently, the company and its Chinese partner Shanghai YTO Express Logistics Co. haul packages for customers of Alibaba Group Holding Ltd., Yang said. Last month, CJ Korea Express and YTO started to ship some of their parcels on chartered cargo flights to meet growing demand, he said.
CJ Korea Express also is in talks on a venture to ship cargo by river in Vietnam and on a trucking service to haul goods for Myanmar's government, Yang said. It's also in negotiations to acquire a company in Brazil to provide logistics, he said.
"We are aiming to have at least two or three ventures or acquisitions every year to grow our overseas business," Yang said. "We are planning to invest a lot in the domestic market at the same time."
Before it's here, it's on the Bloomberg Terminal.
LEARN MORE