China Growth Last Quarter Seen Worst Since Global Recession
Bloomberg News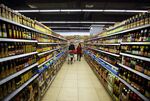 For Zhu Zhangjin, the boss of a furniture factory in eastern China, the cost of finance is still one of the "mountains" weighing on his business's profitability.
Borrowing costs are the "highest among all major economies," said Zhu, chairman of Zhejiang province-based Kasen International Holdings Ltd., naming rising labor expenses and tax rates as other headaches. "It really hurts manufacturing businesses where profit margins are already thin."
Zhu's company, which employs about 5,000 people and exports sofas and car seats to the U.S. and Europe, is one of the nation's labor-intensive, made-in-China businesses that have underpinned three decades of growth. While the central bank has cut interest rates twice in the last six months to cushion a slowdown, rising bad debts and a crackdown on shadow lending are making banks reluctant to lend to smaller firms.
"It's a structural problem that can't be quickly addressed," said Zhao Yang, the Hong Kong-based chief China economist at Nomura Holdings Inc. "China's financial system is not friendly to private businesses, and for the central bank, it has few short-term options but to cut required reserve ratios or benchmark interest rates further."
The benchmark one-year lending rate in China is now 5.35 percent, versus near-zero levels in the U.S., euro zone and Japan. The Wenzhou Private Finance Index, a measure of non-bank lending rates among private companies, is around 20 percent.
Slower Growth
State-owned enterprises, traditionally with easier access to credit, have seen output weighed by a restructuring drive and crackdown on corruption and pollution. That leaves People's Bank of China Governor Zhou Xiaochuan juggling financial reforms to try to steer toward a more market-driven economy with the need to ensure growth doesn't slow too fast.
Gross domestic product data scheduled for Wednesday will probably show the economy expanded 7 percent in the first quarter from a year earlier, according to the median estimate of 38 economists in a Bloomberg survey as of April 10. That would be the slowest pace since the first quarter of 2009, when China was hit by the global financial crisis, prompting then Premier Wen Jiabao to unleash a massive stimulus package that featured a record credit boom.
To achieve this year's growth target of about 7 percent, current Premier Li Keqiang may need to add policy support, something he flagged last month he stood ready to do. The consumer-prices index held steady at a 1.4 percent increase in March from a year earlier, giving room to act.
Export Slump
China's exports unexpectedly slumped last month, eroding the outlook for one of the economy's better performing areas.
"The worse the economic data is, the stronger China's pro-growth measures will be," said Li Wei, the China and Asia economist with Commonwealth Bank of Australia in Sydney. "Growth in the first quarter may look bad, but growth in the second half may rebound thanks to expected policy support."
The PBOC has had some success in moderating China's slowdown. A manufacturing gauge rebounded in March and the nation's benchmark money-market rate dropped for a sixth week, the longest run of declines since 2009.
Even so, "only permanent liquidity injection will be able to sustain the current favorable monetary conditions to head off the risk of deflation," Liu Li-Gang and Zhou Hao at Australia & New Zealand Banking Group Ltd. wrote in a note.
While overall credit growth has shown signs of stabilization this year, banks are cutting back lending to small and medium-sized businesses as soured loans rise.
Micro Loans
China Minsheng Banking Corp., the nation's first private lender, has retreated from its small and micro lending business after bad loans from the segment surged about 140 percent in 2014 from a year earlier.
China Merchants Bank Co.'s bad debts from micro lending more than doubled last year, while China Citic Bank Corp. said its increase in nonperforming loans was mainly due to a "significant" increase in credit risk of private SMEs and sole proprietorships engaged in manufacturing and trade.
The lack of access to credit for smaller firms threatens to undermine the "mighty driving force" Premier Li is banking on to keep China's economy "resilient."
"The practices are simply not sustainable: you can't tell banks to make risky loans with just political motivations, banks won't lend if returns can't cover risks," said Chen Xingdong, the chief China economist with BNP Paribas SA in Beijing. "To make it worse, monetary policy may not help much in directing cheap loans to small businesses."
Looser Policy
That's because looser policy can help boost overall liquidity, but is ineffective in addressing structural problems or steering credit to desired sectors, Chen said.
One area where policymakers' steps to loosen has had an impact is on the stock market, where a surge since the PBOC's November rate cut is acting as a drain on liquidity.
"The stock market rally is actually an obstacle to an economic recovery," Xu Gao, chief economist with Everbright Securities Co. in Beijing, wrote in a note. "All the funds jostling into the stock market are diverting much-needed money from real economic activities and leading to sluggish fixed-asset investment and weaker growth performance."
The statistics bureau will also release investment, retail sales and industrial output data on Wednesday.
"It remains difficult and expensive for small businesses to borrow," said Li Miaoxian, a Beijing-based economist at Bocom International Holdings Co. "The central bank has to relax policy further."
— With assistance by Xin Zhou
Before it's here, it's on the Bloomberg Terminal.
LEARN MORE