HBO's 'Game of Thrones' Episodes Leaked Before Season Opener
Lynn Doan and Lucas Shaw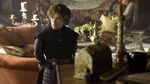 Four episodes of HBO's hit show "Game of Thrones" have been leaked, hours before the season premiere of the blockbuster swords-and-dragons series.
The leak appears to have originated from within a group that HBO approved to receive the episodes, spokesman Jeff Cusson said by e-mail Sunday from New York. The first episode of the show's fifth season is scheduled to air at 9 p.m. New York time. HBO, a unit of Time Warner Inc., had sent copies to media outlets for review.
"Game of Thrones" ranks as one of the world's most-pirated shows, according to TorrentFreak, a website that covers piracy. The episodes were downloaded more than 100,000 times and appeared on sites including Pirate Bay, TorrentFreak reported. The leak occurred just days after HBO's new online-only subscription Web service, HBO Now, became available to Apple Inc. and Cablevision Systems Corp.
HBO's service also appears on on Dish Network Corp.'s Sling TV, where tonight's premiere was seen to be another test of reliability after an outage prevented some users from watching college basketball's Final Four earlier this month.
"We're actively assessing how this breach occurred," Cusson said.
"Game of Thrones" has gained such a cult following since it began airing in 2011 that a filming site on Croatia's southern coast is attracting visitors.
Piracy has plagued film and television producers in recent years. A November cyber attack crippled computers at Sony Pictures and led to the theft of some new movies including its "Annie" remake. "Still Alice" and "Mr. Turner" also turned up on file-sharing sites, along with the Brad Pitt war drama "Fury."
In August, Lions Gate Entertainment Corp. won a court order blocking websites from distributing an allegedly stolen copy of the action film "The Expendables 3" starring Sylvester Stallone, Arnold Schwarzenegger, Mel Gibson and Harrison Ford. Downloaded copies were viewed by more than 2 million people before the movie was shown in theaters.
Before it's here, it's on the Bloomberg Terminal.
LEARN MORE