U.K. Tories Pledge Inheritance-Tax Cut in Bid to Stir Polls
Emma Ross-Thomas and Benjamin Katz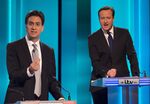 U.K. Prime Minister David Cameron pledged to raise the inheritance-tax threshold for couples to 1 million pounds ($1.5 million) as he seeks to break the opinion-poll deadlock between his Conservatives and the Labour Party less than a month before general elections.
A Tory government will increase the current limit of 650,000 pounds for a couple with an additional 175,000-pound allowance for each partner when passing on their primary residence, Cameron said Sunday in a televised campaign speech in Cheltenham, in west England. The pledge, to be funded by restrictions on pension tax relief for Britons earning more than 150,000 pounds annually, will take effect in April 2017.
"You paid tax on the income, you paid tax when you bought the house, you shouldn't have to pay tax again when you die and when you want to pass that house on to your children" Cameron said. "This would be good for people right across the country."
The plan is "fully costed" with a reduction in the threshold at which earners start paying tax on pension contributions, Cameron said. A current 40,000-pound pension allowance would be tapered down to 10,000 pounds for taxpayers earning 210,000 pounds or more a year, the party said.
The inheritance tax grant is also structured so taxpayers leaving behind assets worth more than 2.35 million pounds would be unaffected by the lower duty.
Tax Evasion
Labour promised on Saturday to crack down on tax evasion with stricter rules and steeper fines, building on a promise earlier this week to tighten rules on non-domiciled taxpayers. The measures, which include closing a "loophole used by hedge funds" to avoid a transaction tax known as stamp duty, would aim to raise 7.5 billion pounds a year, the party said.
Polls before the May 7 vote continue to show the two largest parties almost tied. Television debates, competing tax promises and the Conservatives' focus on the economic recovery have so far failed to break the stalemate, increasing the risk that the result will be inconclusive.
Before it's here, it's on the Bloomberg Terminal.
LEARN MORE