Spotify Said to Seek Financing to Value Music Site at $8 Billion
Lucas Shaw and Alex Sherman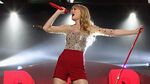 Spotify Ltd. is in the process of raising new financing that would value the largest subscription music-streaming service at about $8 billion, according to people familiar with the matter.
That valuation is double what the company was worth when it raised money in November 2013. The latest round totals about $400 million, according to one of the individuals, and comes from a group that includes Goldman Sachs Group and an Abu Dhabi sovereign wealth fund, the Wall Street Journal reported Friday.
Spotify continues to raise money as it tries to build a global subscription music service before Apple Inc. or Google Inc., which are both pursuing the same market. Spotify has more than 60 million users, a quarter of whom pay $9.99 for a monthly, ad-free version.
Like Pandora Media Inc., a public company valued at $3.55 billion, Spotify pays a large percentage of its revenue to record labels and publishers for the right to license their music. With sales of both CDs and digital downloads in decline, the three major record labels -- Vivendi SA's Universal Music Group, Sony Corp.'s Sony Music Entertainment and Access Industries' Warner Music Group -- view streaming as the key to future growth.
Though the labels own a stake in Spotify, they have complained about the money they receive from the company and pushed for greater restrictions to its free service. Spotify has resisted those overtures, arguing that an appealing free service is the best way to lure customers who will then subscribe. Listeners must have a subscription to access the full offering on a mobile phone.
Limiting Access
Music companies aren't the only ones to complain about Spotify. Singer Taylor Swift pulled her entire song catalog from the service after it refused to restrict her new album, "1989," to its subscription service.
Spotify is about to face a new challenge from Apple, which is revamping the subscription service it acquired in its $3 billion purchase of Beats Electronics LLC.
Apple has asked English indie rock band Florence and the Machine and more than a dozen other artists for exclusive deals to promote its new service, which will cost $9.99 a month and have no free tier. The world's largest music retailer has bet on streaming as sales from its iTunes store decline.
Meanwhile, rapper and executive Jay Z recently unveiled a new version of Tidal, the music streaming service he owns with a number of his peers. Alicia Keys, one of the owners, said in a promotional video that Tidal "puts the power back in the artists' hands."
Spotify also has been exploring new ways of attracting subscribers, such as podcasts. The company, which hosts some podcast-like audio such as Spanish lessons along with millions of songs, plans to add more non-music programming, according to people not authorized to speak publicly.
While the discussions have occurred for several months, there's no firm plan or introduction date. An expansion into areas such as news or comedy would help Spotify broaden its programming and reduce its reliance on major record labels.
Before it's here, it's on the Bloomberg Terminal.
LEARN MORE