Obama Says U.S., Cuba on Path to Future After Meeting Castro
Angela Greiling Keane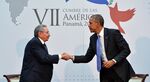 President Barack Obama, after "obviously a historic meeting" with Cuban President Raul Castro, said Saturday the two nations are on a path to the future.
"Over the years a lot of mistrust has developed," Obama said following the first meeting of the two men since they agreed in December to end a half-century of estrangement. "We are now in a position to move on a path to the future."
Obama said connections between Cubans and Americans "will strengthen," while the U.S. government "will continue to try to lift up our concerns about democracy and human rights."
Castro, who sat next to Obama during the bilateral meeting during the Summit of the Americas in Panama, said "what President Obama has just said is practically the same as we feel about these topics."
"We are willing to discuss everything but we need to be patient," Castro said. "We might disagree on something today that we may agree on tomorrow."
Before it's here, it's on the Bloomberg Terminal.
LEARN MORE