Obama Says Iran's Leaders Using Nuclear Talks for Political Spin
Toluse Olorunnipa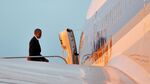 U.S. President Barack Obama disputed Iranian leaders' assertions that immediate sanctions relief would spring from a final nuclear accord, and faulted Senate Republicans for injecting partisanship into the negotiations.
Obama said that phased reduction of penalties on the Islamic Republic was part of a preliminary accord reached last week and that Iran has its own politics and hardliners "just as we have in our own country."
"It's not surprising to me that the supreme leader or a whole bunch of other people are going to try to characterize the deal in a way that protects their political position," Obama said in a news conference Saturday after a summit of Western Hemisphere leaders in Panama.
The president is trying to sell the framework agreement announced April 2 to Congress and the American public as a way to curb Iran's ability to enrich uranium in exchange for relief from economic sanctions. The U.S. and five other world powers are working toward a final deal with Iran by June 30.
The path to a final accord hit a roadblock April 9, when Iran's supreme leader, Ayatollah Ali Khamenei, said economic sanctions on his country must be lifted as soon as it's signed and that Iran's military facilities would remain off-limits to international inspectors. His assertions contradicted U.S. and French descriptions of the political framework.
"Sanctions should be removed at once," Khamenei said in his first public comments on the negotiations. He would have to approve whatever Iran's negotiators work out with China, France, Germany, Russia, the U.K. and U.S.
Three Months
The framework announced in Switzerland gives the partners three more months to settle technical details of an accord that could lead to the easing of sanctions in exchange for Iran's verifiable abandonment of efforts to build a nuclear weapon.
"The work is going to be so important between now and the end of the deal to memorialize this so we can all inspect it," Obama said Saturday.
After the framework was announced, the president and his top aides immediately began the job of selling the deal, making a flurry of calls to lawmakers and offering public assurances that sanctions on the Islamic Republic won't be lifted anytime soon.
Even so, Obama has faced objections in Congress from Republicans and members of his own party. Legislation sponsored by Senate Foreign Relations Committee Chairman Bob Corker, a Tennessee Republican, would give lawmakers the power to review an Iran nuclear deal and block the U.S. from lifting sanctions.
'Anticipate Failure'
Obama said Saturday that he has been in touch with both Corker and Senator Ben Cardin, the top Democrat on the Foreign Relations Committee, adding that Congress can have a look at the agreement "when it's done."
"I don't understand why it is that everybody is working so hard to anticipate failure," he said. "The opponents of the deal don't seem to be focused on how do we get to a good deal as much they're focused on how can we show that it's not possible to get a good deal."
He accused Arizona Republican Senator John McCain of sowing doubts about the credibility of U.S. negotiators led by Secretary of State John Kerry.
"When I hear some, like Senator McCain, this week, suggest that our Secretary of State John Kerry who served in the United States Senate, a Vietnam veteran, who's provided exemplary service to this nation -- is somehow less trustworthy in the interpretation of what's in a political agreement than the Supreme Leader of Iran, that's an indication of the degree to which partisanship has crossed all bounds," Obama said.
Democratic senators backing a bill that would give Congress authority to review an Iran nuclear deal are caught between the White House and the pro-Israel lobby as they assert their prerogative to vet foreign policy.
The Corker bill, co-sponsored by New York Senator Charles Schumer and eight other Democrats, would allow Congress to block the U.S. from lifting sanctions against Iran. The Obama administration says the measure could imperil the nuclear talks and that he would veto it.