Valeant VP's $50.6 Million Pay Second to Apple Among Non-CEOs
Caroline Chen and Alicia Ritcey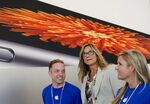 Valeant Pharmaceuticals International Inc. paid Executive Vice President Ari Kellen $50.6 million in 2014, giving him the second-highest pay of any newly hired non-chief executive in the U.S.
The package is part of Valeant's strategy to reward new hires when they walk in the drugmaker's doors. Kellen's pay trails only Apple Inc.'s Angela Ahrendts among U.S. executives at publicly traded companies whose 2014 compensation has been reported, according to summary compensation table data compiled by Bloomberg. Ahrendts, who was hired as Apple's new sales chief after serving as CEO of Burberry Group Plc, received $73.4 million in 2014.
Kellen's package is almost five times larger than that of Valeant CEO Michael Pearson, who received $10.3 million. Kellen, 51, joined Valeant in January 2014 as executive vice president and company group chairman, and oversees the eye health, dermatology, research and development, and Latin American units.
His performance-based stock awards of $36.6 million were front-loaded to cover the next five years of pay, according to a company filing, meaning the drugmaker expects the award to serve as compensation for multiple years without additional annual stock grants. The company has to meet certain performance targets for the awards to fully vest by April 2017 and May 2019.
Kellen also got $752,885 in salary, a $5 million cash bonus related to Valeant's Bausch & Lomb Inc. acquisition, $6.5 million additional restricted share units as part of a stock matching program, and a $1.8 million annual cash bonus, according to the filing.
"Valeant's entire compensation structure is based on shareholder returns over several years," said Laurie Little, a Valeant spokeswoman, saying that it aligns with the long-term results shareholders are looking for. "This structure also ensures that we are not tied to the stock price in the short-term and will make smart business decisions for the long-term health of the organization."
Outpaying Pfizer
Valeant CFO Howard Schiller received $27.1 million and General Counsel Robert Chai-Onn received $23.9 million, according to the filing.
By comparison, Ian Read, CEO of Pfizer Inc., the biggest U.S. drugmaker, was paid $23.3 million in 2014, according to a company filing.
In total, Valeant's top five executives got $122.9 million in compensation during 2014 -- the equivalent of about 13 percent of the company's net income for the same period.
Front-loading awards isn't unheard of, said Joe Kager, a managing consultant at POE Group, a compensation consulting firm.
"If you have a new hire and you had to take them away from another competitor, sometimes you'll see a substantial grant," Kager said by telephone. "It's not that atypical if he's really a shooting star, but it is an awfully large number."
McKinsey Consultant
Before joining Valeant, Kellen was a senior partner in McKinsey & Co.'s health-care practice, where he worked for 22 years. Kellen's "experience in developing comprehensive growth strategies for health care companies will be invaluable to us as we continue to expand our successful growth trends," Pearson said in a statement when Kellen was hired. Pearson is also a former McKinsey consultant.
Valeant is seeking to become one of the world's biggest drug companies and last year failed in an attempt to acquire Allergan Inc., the maker of Botox, with the help of Bill Ackman's Pershing Square Capital Management LP. Valeant beat out Endo International Plc in March to acquire Salix Pharmaceuticals Inc. for $11 billion.
The company's market value has grown 69 percent in the past year to about $69 billion, according to data compiled by Bloomberg.
Before it's here, it's on the Bloomberg Terminal.
LEARN MORE