U.K. Industrial Output Barely Rises as Oil and Gas Declines
Emma Charlton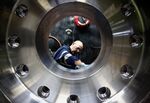 U.K. industrial production rose less than economists forecast in February as stronger manufacturing output was offset by a drop in oil and gas.
Total production gained 0.1 percent following a 0.1 percent decline in January, the Office for National Statistics said in London today. An increase of 0.3 percent had been predicted in a Bloomberg survey. Oil and gas slid 3.8 percent, while manufacturing rose 0.4 percent amid higher car output.
The figures suggest the industrial sector faltered in the first quarter, with output in the three months through February declining 0.2 percent. An increase of 0.4 percent will be needed in March to keep production at the level seen in the fourth quarter, when it grew 0.2 percent.
Seven of 13 manufacturing sectors posted gains in February, with transport equipment, machinery and metals increasing the most. Statisticians said the fall in oil and gas was not caused by maintenance shutdowns. Instead, it reflected lower production at fields including Forties and Sullom Voe. Output fell 12 percent from a year earlier, the biggest annual drop since August 2013.
In a separate report, the ONS said construction output fell 0.9 percent following a 2.5 percent drop in January. It leaves the industry needing to grow 10.4 percent in March to maintain unchanged output in the first quarter. Private-sector housing partly explained the weakness in February.
The pound extended losses after the reports and was trading at $1.4647 as of 9:57 a.m. London time, down 0.4 percent from Thursday.
Recent economic surveys have been mixed. While Markit Economics says growth may have accelerated to 0.7 percent from 0.6 percent, British Chambers of Commerce said Thursday the U.K. lost momentum across all sectors of the economy. The first official estimate for the period will be published April 28.
Bank of England officials held the key interest rate at a record-low 0.5 percent Thursday at their last meeting before the May 7 general election.
(An earlier version of this story was corrected to show industrial output fell in the three months through February.)
UKIPIMOM Index UKMPIMOM Index
NI UK NI ECO NI UKECO NI MAC NI CST NI OIL NI NRG NI INF NI MMK NI FRX NI GLT
Before it's here, it's on the Bloomberg Terminal.
LEARN MORE