Restaurants
Legendary Vegetable Chef Enters London's Red Meat District
Jerusalem author Yotam Ottolenghi opens his fourth restaurant in the City of London; New York can wait
By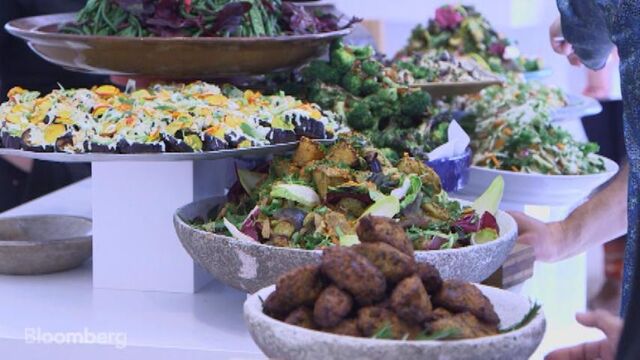 Yotam Ottolenghi, the Israeli-born chef known for healthy vegetable dishes, has just opened his fourth restaurant in the City of London. 
Sound the alarms.
The Square Mile is traditionally associated with red meat and claret wines, not purple sprouting broccoli and orange juice. Ottolenghi reckons all this is changing, and the financial district is ready for his veg-forward Middle Eastern cuisine. 
"Things are shifting a bit," he says in an interview at Ottolenghi Spitalfields, three hours after opening the doors on April 8. "I've noticed, just by walking around and also reading what's happening in the last few years, there is a tendency here towards vegetables, and we're really good at doing vegetables. We're going to adapt the menu so there's a little bit more meat, a little bit more carb, but still all those wonderful vegetables that people come for." 

The vibe and concept is the same as Ottolenghi's West London location: a delicatessen counter full of delicious things (salads, cakes, spreads) that people can eat there or take back to the office. A more formal dining room will be open all day. The new venue will also feature a grab-and-go cabinet for salads; upstairs, there's a bakery.  
For breakfast, there's shakshuka, a North African dish with eggs simmered with peppers in a tomato sauce, served with labneh (strained-yogurt) and grilled focaccia, for £9.50 ($14.17). In the evening, the chandeliers will be dimmed and the 70-seat dining room will become a more formal restaurant, with an a la carte menu and unusual wines. (Ottolenghi is a fan of natural wines, though he says not all the options will be orange and from places such as Georgia.)

Measured Expansion
The chef has found worldwide fame with cookbooks such as Jerusalem, which is particularly popular in the U.S. Yet his restaurants and delicatessens are all in London, in neighborhoods such as Notting Hill, Islington, and Belgravia, as well as the flagship Nopi in the West End.
Aren't he and business partner and co-author Sami Tamimi tempted to open in New York?

"We're not ruling it out altogether, but there really is definitely no plan to open in New York or anywhere else in the world," Ottolenghi says. "New York is pretty far. One of the things is that both Sami and myself are pretty compulsive in terms of our control—or wanting to control—the quality and the way things work. So I always find it very difficult to imagine having a restaurant that's not around the block.  
"There have been suggestions, but for now we're keeping it London-focused. "
Meanwhile, he's appreciating the growing popularity in London of Middle Eastern cuisine.
"There were always kebab shops. But there wasn't really serious dining focused on Middle Eastern food. It's wonderful to see Lebanese places, North African places, Israeli places opening up to become such a staple here in London," he says. "We've been to Greece, we've been to southern Italy and Spain and all around the Mediterranean, but the Middle East is the last spot to be taken seriously."

Family Man
Not that Ottolenghi dines out much these days. He and his partner, Karl Allen, have a son, Max, who tends to keep them at home these days.
"I work less since I became a dad [in 2013] because I just love to spend time at home," he says. "It's a pretty selfish reason: Evenings at home with families are just so exciting, so I do that. But I still work pretty hard. I still do what I do, what I love doing, and that's making up food, serving food, getting people over to enjoy their meals."
Does he enjoy success?
"I don't take time to marvel at success. I take time to make sure everything works out perfectly. We've been spending the whole morning here looking at all the little details, so if there's a little crack between the counter and the wooden surface we make sure it's filled up so there's no crumbs. 
"I'd rather do that than think how successful I am."
Ottolenghi Spitalfields is at 50 Artillery Lane, E1 7lJ; +44-20-7247-1999 or ottolenghi.co.uk
Before it's here, it's on the Bloomberg Terminal.
LEARN MORE