Oaktree Is Said to Raise $7 Billion for Distressed Debt Fund
Sabrina Willmer and Devin Banerjee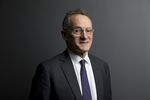 Oaktree Capital Group LLC has gathered $7 billion for a distressed debt fund as it prepares for the economic recovery to falter, said two people with knowledge of the matter.
The world's biggest distressed-debt investor, Los Angeles-based Oaktree is targeting at least $10 billion for the pool, said the people, who requested anonymity because the details are private. The fund will be split into two parts, a $3 billion portion called Opportunities X that can be deployed initially and a $7 billion reserve called Opportunities Xb, co-founder Howard Marks said in February.
Oaktree, which has returned almost all of the profits from its $14.5 billion pre-crisis distressed fund, is preparing for opportunities even as few corporations run into trouble. Global defaults fell to 53 last year, an 80 percent drop from the peak in 2009, according to Moody's Investors Service. Yields on junk bonds have also dropped to 6.5 percent from 7.1 percent in January, according to a Bank of America Merrill Lynch index.
Alyssa Linn, a spokeswoman for Oaktree at Sard Verbinnen & Co., declined to comment on fundraising.
Marks, Oaktree's co-chairman, said in December that effects of a plunge in oil prices may be an "igniter" of a wider debt crisis. The firm deployed $400 million in energy deals during the fourth quarter, he said in February.
Energy Bonds
High-yield bonds tied to energy companies have slumped 11 percent since oil's peak last year. A sustained slump may trigger a significant increase in defaults of energy companies, Deutsche Bank AG said in a December report.
"The beauty of the b fund structure is that it gives us flexibility," Marks said in February, referring to the reserve-fund option that Oaktree has also used for previous distressed funds. "If the environment were to darken further such that there is more distressed than at our option, we can swing into investing the capital for fund Xb whenever we want."
Oaktree oversaw $90.8 billion as of Dec. 31. Formed in 1995, it also manages private equity holdings, real estate and energy-related assets. The firm plans to report first-quarter financial results on April 30.
Before it's here, it's on the Bloomberg Terminal.
LEARN MORE