Nadal May Be in 'Worst Form of Career' Before Europe Clay Season
Danielle Rossingh and Alex Duff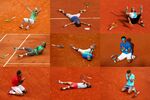 Nine-time French Open champion Rafael Nadal said he's perhaps never been in such poor form going into the clay-court season.
The 28-year-old Spaniard, the most dominant clay-courter of his generation with 46 tournament victories, will play his first match of the European clay season in Monte Carlo next week. With 14 major titles, Nadal has been struggling since winning an unprecedented ninth time at Roland Garros in June.
"It's a clay court season where perhaps I am arriving in the worst form of my career," Nadal told Television Espanola today. "I'm fifth in the rankings and it looks like I am going to carry on going down. My ranking position is based on these next six, seven or eight weeks and if I don't manage to get better results then my ranking will suffer quite a lot."
The former top-ranked left-hander is still the favorite to win a 10th French Open title at U.K. bookmaker William Hill Plc at 5-4, followed by Novak Djokovic at 6-4. The only Grand Slam event on clay starts May 24 in Paris.
Nadal missed the U.S. Open in September with a wrist injury, and then got sidelined by an appendix operation in November. Since beating top-ranked Djokovic of Serbia in the finals of Roland Garros, Nadal has won only one tournament, last month on the clay in Buenos Aires. He lost to Tomas Berdych in the Australian Open quarterfinals, a player he'd beaten 17 times in a row since 2007.
Nadal, who is aiming for his ninth title in Monte Carlo starting April 12, said he will have to "think positively, do things well and recover all the confidence that I need to do succeed on court. I think things will turn out well."
Before it's here, it's on the Bloomberg Terminal.
LEARN MORE