Macquarie: The Strongest Phase of Europe's Equity Rally Is Likely Over
Will one of the oldest pieces of market advice hold in 2015?
by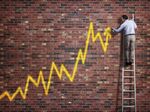 It's mid-April, so time for stock analysts to start reciting the market saying, "Sell in May and go away." 
Macquarie, the Australian investment bank, is out with a note that puts forward a strong argument why one of the oldest pieces of stock market wisdom could be good advice this year, at least when it comes to European stocks.
The firm looks at two indexes, the Europe Stoxx 600 and the FTSE 350.

The average for the Stoxx 600 is from 1987 and from 1986 for the FTSE 350.
The chart above shows that the "sell in May" effect is stronger in the Stoxx 600. Macquarie puts the current year's performance into context by charting the change in stock prices from November to May in each year of its sample range. The firm has renamed "sell in May" as "the Halloween effect."

Macquarie notes:
Fig 2 shows that, even if the European market were flat for the last three weeks of April, the current Halloween period would be among the strongest in our sample. Interesting, only the buildup of the tech bubble (years between 1996 and 1999) produced better performance between November and April.
Macquarie says its research suggests that the strongest phase of the rally is behind us.
Before it's here, it's on the Bloomberg Terminal.
LEARN MORE