Inside the Courtroom as a Putin Foe Faces Prison for Poster Theft
Georgy Alburov took a poster from a fence. The Russian government sent elite agents to investigate.
by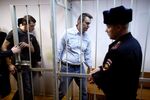 A criminal trial in Russia this week saw yet another high-profile critic of Vladimir Putin at risk of imprisonment. This case is different only because the target of the alleged crime seems so trivial: an amateurish poster displayed on a wooden fence in a provincial Russian town.
Georgy Alburov, the author of daring investigative reports into valuable assets accumulated by Russian officials, could be sentenced to five years in prison for stealing the poster. Alburov insists he is being punished not for poster-related crimes but rather for identifying a luxury property belonging to Putin's deputy chief of staff, Vyacheslav Volodin, who's been described by reports in the liberal press as a leader of the clampdown on Russia's political opposition.
At a court session on Tuesday in the town of Vladimir, located about 125 miles east of Moscow, Alburov readily admitted he had removed the poster from the fence and given it to his boss at an anticorruption think tank, the opposition leader Alexey Navalny, as a birthday gift. But Alburov insisted the poster was no one's property and had no real value. "I saw pictures hanging on the fence. They looked dirty, with many holes, damaged by precipitation and abandoned," he told the court. "There were no signs or contact details attributing them to anyone." He pleaded not guilty.
The fence lining the stairs to Vladimir's railway station had been used as an impromptu exhibition space by Sergey Sotov, a janitor who paints posters condemning the ills of society and, specifically, dogs and their owners. The poster taken by Alburov, shown below, depicts the virtues and sins of modern Russian society.
In several interviews with Russian journalists last year, the janitor took credit for the posters on the fence and explained that he wasn't bothered by the removal of his work. The poster taken by Alburov, drawn on four sheets of paper glued to cardboard found in the trash, was titled Bad Good Man.
Sotov told reporters at the time that security officials "simply duped" him into signing a complaint about the disappearance of the poster taken by Alburov. He denied writing the complaint, saying he hadn't bothered to read it and didn't wish to see Alburov charged with a crime. This account was described in the courtroom this week by two journalists summoned by defense lawyers as witnesses.
But Sotov himself changed tack during his own appearance in the courtroom. The janitor arrived in a black sport-utility vehicle accompanied by an entourage of muscular men. He told the court he was upset by the disappearance of the poster and estimated the damage at 5,000 rubles ($96), an amount equal to his monthly income.
Sotov hasn't spoken to reporters recently and is now represented by a lawyer. Asked to explain Sotov's sudden change, his lawyer, Oleg Rall, said: "He thought that he was just a small man. But now he has felt that the state was keen to put its weight behind a small man like him."
It's clear that the case against Alburov isn't being treated like a petty crime. A team of 12 agents from an elite force within Russia's Investigative Committee, a law enforcement agency similar to the FBI, conducted the investigation, according to Alburov's lawyers. A recent investigation into a gang who killed at least 14 motorists near Moscow, by contrast, was handled by a lower-level group within the same agency. So, too, was the inquiry into the theft of five paintings by the famous Russian artist Isaak Levitan from a museum. Searches conducted as part of the Alburov investigation—at both Navalny's anticorruption foundation and at home—involved lightning raids of balaclava-clad agents and the removal of electronic devices for forensic checks. (In an unrelated case, Navalny recently served a 15-day jail sentence for handing out pamphlets and spent 10 months under house arrest last year. With a suspended sentence and several cases opened against him, he lives under constant threat of imprisonment.)
Materials made available to the defense team included the correspondence between Russia's prosecutor general, who insisted that the case was not ripe for court, and the head of the Investigative Committee, Aleksandr Bastrykin, who vehemently disagreed. The judge presiding over the trial, Yury Yevtyukhov, is the former head of the local branch of the same elite agency.

In an interview, Alburov told Bloomberg that his inquiry into Volodin, Putin's deputy chief of staff, set off the legal showdown over a poster. "Our investigation into Volodin's assets has touched [the Kremlin's] sore spot. It is what made them really angry and forced them to take drastic measures," Alburov said. The Kremlin has long maintained that it doesn't interfere with the judiciary and or persecute opposition figures.
The investigation of Volodin's properties focused on a large plot in a posh neighborhood just outside of Moscow. The residence captured in drone photographs features a large chateau, a helipad, a pond, and tennis courts. Alburov's team obtained documents linking the property to Volodin and put the evidence into the public domain. The findings posed questions about how Volodin, a career bureaucrat, could have amassed a personal fortune while earning a meager government salary. He hasn't commented on the findings, but the land is noted in his official disclosures without mention of the exact location or cost.
Less than a month before he was accused of stealing the poster, Alburov led activists on a research expedition in the vicinity of Volodin's estate. The incident ended in a confrontation with police and unidentified assailants.
Rall, the lawyer representing the janitor who created the poster, remained optimistic that Alburov wouldn't be sentenced to prison. "It's petty theft, not a grave crime. A fine is most likely, since it's not repeated offense," he told Bloomberg. But only 4.5 percent of trials in Russia end in acquittals, and the judicial system is prone to putting people away for minor theft. A man in Ozersk was sentenced on Wednesday to 16 months in prison for stealing a toy bear from a shop.
The prospect of imprisonment didn't deter Alburov from continuing his research. He has recently obtained an aerial shot of what's claimed to be Putin's palace in Gelendzhik on the Black Sea, and the picture made headlines in the international press.
Before it's here, it's on the Bloomberg Terminal.
LEARN MORE