CBS Seeks Golf's Next Ratings Tiger as Woods's Game Fades
Lucas Shaw and Mason Levinson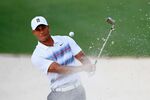 Golf broadcasters got just what they needed during the first round of the Masters Tournament, even if Tiger Woods is tied for 41st.
While a strong performance this weekend from Woods could boost ratings on CBS, the talk of the tournament after one day is 21-year-old American Jordan Spieth, the first-round leader with an 8-under-par 64.
Woods, who returned from a break to play in the Masters this week, has been the biggest draw in the game for two decades. Yet at age 39, his celebrity has faded along with his game, and no one has replaced him. Spieth and rivals like Rory McIlroy, the world's top-ranked player, represent the best hope to improve the long-term health of the sport for television networks that carry it and sponsors like IBM and AT&T Inc.
"Golf has wandered around without a clear central star, and golf needs a star," said Dan Durbin, head of USC's Annenberg Institute of Sports, Media and Society. "It's a long, incredibly boring sport where you're watching a whole bunch of people hit golf balls. It needs a star who can get crowds' interest or else you can't sell the product."
The sport is still immensely profitable for networks like CBS, which which airs the final two rounds of the Masters, the most-watched U.S. golf tournament, on Saturday and Sunday. Other golf broadcasters include Walt Disney Co.'s ESPN, which carries the early rounds Thursday and Friday, 21st Century Fox Inc. and Time Warner Inc. The game's fan base of affluent men is among the most valuable to advertisers, according to Catherine Warburton, chief investment officer at media agency Assembly.
Fox paid about $100 million to wrestle away the rights to golf tournaments that include the U.S. Open from Comcast Corp.'s NBC Sports and ESPN, according to the Associated Press. For CBS, the Masters fills out a sports portfolio that includes the National Football League and NCAA college basketball tournament.
Rich Target
"It is extremely upscale; if you want to reach a very upscale audience, there is nothing like golf," said Warburton, whose firm represents clients including New York Life and Expedia Inc. "Even if ratings aren't what they used to be, it's such an upscale and pure audience it's attractive to clients looking to reach those people."
Woods's celebrity transcended the core audience that most golf advertisers pay to reach. He is known by 97 percent of U.S. consumers, ranking 30th in awareness -- on a par with Oprah Winfrey, Michelle Obama and Madonna -- in the Marketing Arm's Davie Brown Index, which measures attributes of more than 3,600 celebrities.
CBS, which has aired the tournament from Augusta National Golf Club in Georgia for more than half a century, got a reminder of Woods's importance to ratings last year. Viewership collapsed when Woods sat out after back surgery. In 2010, coming back at the Masters from a self-imposed break following the scandal that broke up his marriage, Woods tied for fourth and the audience shot up 22 percent.
U.S. Profile
"The Masters is one of our most important and prestigious properties at CBS Sports," the company said in a statement. "Although the ratings may fluctuate marginally, it is annually the highest-rated and most-anticipated golf tournament each year."
By comparison, about 40 percent in the U.S. are aware of McIlroy. That puts the 25-year-old from Northern Ireland in the company of soccer player Cristiano Ronaldo and sportscaster Erin Andrews.
Nike Inc., which sponsors Woods, recently created an ad in which a juvenile McIlroy watches Woods golf, signaling a succession. Similarly, video-game maker Electronic Arts Inc. replaced Woods with McIlroy as the face of its new title, Rory McIlroy PGA Tour.
Spieth Prospects
A successful young American would also help CBS. Spieth, an American whose 64 was one off the tournament record, is trying to become the second-youngest winner of the golf season's first major championship, trailing only Woods.
"On a North American basis, Jordan Spieth has the best chance currently to bring consumer interest back to a larger level," said Rick Groesch, Senior Vice President, Global Sports at the Marketing Arm, a consulting firm. A rivalry between Spieth and McIlroy, who has done well with consumers in Europe, could bring in more fans, he said.
Unlike other golf tournaments, the Masters carries a limited number of TV commercials. Spieth is toting a bag sponsored by AT&T, one of three title sponsors for the tournament, along with International Business Machines Corp. and Mercedes Benz.
Woods was five months younger than Spieth is now when he won his first of four Masters titles in 1997.
"Jordan represents the future of golf and with young stars like him, we believe golf has a bright future," AT&T said.
Before it's here, it's on the Bloomberg Terminal.
LEARN MORE