Asia's Richest Add $64 Billion as the Market Frenzy Rolls On
Fortunes are rising in China
by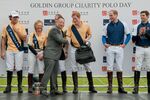 More than one-third of the $165 billion increase in the world's 200 biggest fortunes this year has gone to the 27 richest people in Asia, where the region's equity frenzy has pushed up Hong Kong's Hang Seng index more than 15 percent and Shanghai's Shenzhen composite index almost 50 percent, according to data compiled by Bloomberg. China's top 17 billionaires are up more than $50 billion. Hong Kong's 10 richest have increased their wealth by $20 billion.
The biggest rise belongs to Hong Kong's Pan Sutong, who's added $12.5 billion on the surging value of publicly traded Goldin Financial Holdings, an investment company with interests in luxury property, polo clubs, and wine that had $52 million of revenue in 2014. Pan's fortune has risen 341 percent in 2015.

Before it's here, it's on the Bloomberg Terminal.
LEARN MORE