Why Drilling for Oil Near Gatwick Airport Actually Makes a Lot of Sense
Today's big news shouldn't be much of a surprise.
by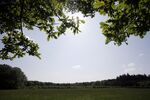 Today's announcement by UK Oil & Gas Investments that it had made a "world class" discovery south of London led to a massive jump in the share price of that tiny exploration company.  
The discovery well, called Horse Hill 1, is in the rolling hills of West Sussex, close to Gatwick Airport.

When we say "close to Gatwick airport," we mean really close. The wellhead is less than 1½ miles from the airport.

The question people unfamiliar with U.K. onshore oil and gas exploration will be asking is, "Why were they drilling there in the first place?"
There are two main reasons. The first is that they were probably following one of the oldest rules in exploration—the best place to look for oil is close to an existing oil field. This may come as a surprise, but several small oil or gas fields are in close proximity to the Horse Hill discovery, as this map shows, with gas discoveries marked green and oil shown in red.

If we scan out a little further, we can also see the oil field at Wytch Farm in Dorset, which is Western Europe's largest onshore oil field.

So clearly, the geological setting is good for drilling exploration wells.
The second factor is also important, and that is government incentives. Much of the south of England is part of the Jurassic Weald Basin, where the U.K. government is keen to encourage exploration, including exploration for shale reserves that would require hydraulic fracking to recover.
The British Department of Energy and Climate Change, together with the British Geological Society, published a report in December 2014 outlining the prospects for further development of oil and gas reserves in the Weald Basin. 
The 90-page report, coupled with a new exploration licensing round and the current English government's refusal to follow Scotland and Wales in banning of hydraulic fracking means that the political climate at the moment could not be better for exploration south of London.
With exploration, however, the usual caveats apply. Explorers cannot control what is in the ground—most exploration companies find nothing—as can be seen from this table included in the British government report.

The current push for drilling in the Weald Basin is not the first attempt to strike it rich in the Surrey countryside. The previous peak of exploration was under Prime Minister Margaret Thatcher's conservative government in the 1980s, as can clearly be seen by the number of wells drilled in that decade.
Correction: An earlier version of this article incorrectly stated that Wytch Farm is in Devon. Wytch Farm is in Dorset.
Before it's here, it's on the Bloomberg Terminal.
LEARN MORE