U.S. Consumers Will Open Their Wallets Soon Enough
Don't worry, Americans aren't becoming obsessive savers. Count on them to spend
By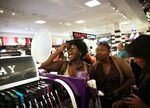 People are constantly exhorted to save, but as soon as they do, economists pop up to complain they aren't spending enough to keep the economy growing. A new blogger named Ben Bernanke wrote on April 1 that there's still a "global savings glut." Two days later the Bureau of Labor Statistics announced the weakest job growth since 2013, which economists quickly attributed to soft consumer spending. The U.S. personal savings rate—5.8 percent in February—is the highest since 2012. "After years of spending as if there were no tomorrow, consumers are now saving like there is a tomorrow," Richard Moody, chief economist at Regions Financial, wrote to clients in March.
Saving too much really can be a problem when spending is weak. There are only two things you can do with a dollar, after all: spend it or save it. If you spend it, great—that's money in someone else's pocket. If you save it, the financial system is supposed to recycle your dollar into productive investment with loans for new houses, factories, software, and research and development. But if no one's in the mood to invest more and interest rates are already as low as they can go (as they are in much of the world), the compulsion to save can sap demand and throw people out of work.


For the U.S. economy, the good news is that the jump in the personal savings rate is probably no more than a blip. Three economists from Deutsche Bank Securities in New York explained why in a March 25 report called U.S. Consumers: Still Shopping, Not Dropping. While noting a "deceleration" in consumer spending, they wrote, "we think that concerns about the outlook for the consumer are overstated." Their model of the U.S. economy predicts the savings rate will fall to 3 percent to 3.5 percent by 2017.
Other economists have also concluded that the spending dropoff is temporary, which is why the slowdown in job growth, to just 126,000 in March, didn't set off many alarm bells. "Consumer spending is starting to look more and more like a coiled spring," says Guy Berger, U.S. economist at RBS Securities. One sign that consumers aren't retrenching: On April 7 the Federal Reserve reported that consumer credit rose $15.5 billion in February, in line with the recent past.
According to Deutsche Bank Securities, the first reason to think consumers will resume spending is that their incomes are rising. Annual growth in average hourly earnings has averaged about 2 percent since 2010, which isn't great but does exceed inflation. With more people working as well, aggregate payroll outlays are up 4.9 percent from the past year, according to Bureau of Labor Statistics data.
The rises in stock and home prices should make consumers more willing to live a little, say the Deutsche Bank authors, Peter Hooper, Matthew Luzzetti, and Torsten Slok. They calculate that households' net worth is almost 6.5 times consumers' disposable personal income. That's the highest ratio since before the housing crash. Consumers could also pick up spending if they gain confidence that the drop in gasoline prices is lasting, says Nomura's chief U.S. economist, Lewis Alexander.
No question, the high savings rate depresses spending in the short run. Purchases of durable goods, from cars to couches, remain well below their 60-year average share of gross domestic product. But all that saving helps consumers get their finances in order, which will allow them to satisfy pent-up demand for that sweet new Ford F-150. Fed data show that financial obligations including debt service, rent, and auto leases are about their lowest in comparison to disposable income since 1981. When consumers are ready to borrow more, it won't hurt that, according to the Fed's survey of banks' senior loan officers, banks are easing lending standards.
These factors add up to an optimistic consumer. The weekly Bloomberg Consumer Comfort Index is at its highest since before the 2007-09 recession. Americans' assessment of the buying climate in late March was the best since March 2007. Bad winter weather and West Coast port labor disruptions aside, "I wouldn't say the consumer is deteriorating at all," says Poonam Goyal, a Bloomberg senior research analyst.
The real risk from excess saving is abroad—especially in Germany, as Bernanke, the former Federal Reserve chairman, said in an April 3 post on his new blog at the Brookings Institution, where he's a distinguished fellow in residence. He argues that Germany should promote imports and world growth by upgrading infrastructure, raising wages, and removing barriers to new housing. Americans, in contrast, can ultimately be counted on to spend what comes in the door. Now is no exception.
—With Shobhana Chandra and Rich Miller
The bottom line: While consumer demand has been soft, economists say households will soon go shopping again.
Before it's here, it's on the Bloomberg Terminal.
LEARN MORE