Music for the One Percent
Testing out Jay Z's expensive new streaming service
By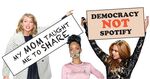 If you subscribe to the music service Tidal, you can listen to a playlist of Jay Z's favorite songs. Right now he's into Kanye West, and the rapper Kendrick Lamar, and an obscure Outkast song from the 1990s that was never a hit. The track list is displayed prominently on the app, of course, because Jay Z owns Tidal: He purchased it earlier this year from the Swedish company Aspiro for $56 million. On March 30, in a press conference that featured Beyoncé, Rihanna, Taylor Swift, and other pop stars hilariously signing what looked like a presidential bill, Jay Z declared that he's disrupting the music industry. Actually, he had Alicia Keys make the proclamation for him.
For $10 a month—or $20 if you want high-fidelity audio files, which sound no better on most headphones—Tidal gives you access to a catalog of artist-curated music. Jack White chose a bunch of weird stuff from his record label Third Man Records. (Gene Clark? A guy named Pokey Lafarge?) Jason Aldean made a list of country party anthems that includes Kid Rock. Beyoncé can't wait to see her friend West at this summer's music festivals. You can also make playlists yourself; Tidal has about 25 million songs to choose from.
This would be great if it didn't already exist. It's called Spotify, the preeminent service that offers more than 30 million songs for free to 60 million users (15 million of whom pay $10 for ad-free listening). Since first going live in 2014, Tidal has wooed only 500,000 paying customers. Clearly the new boss thinks copying the competition will get those numbers up. Tidal's redone app is easy to navigate and uses the same white text and black background as Spotify. If you had both apps open on your phone, you might forget which is which.

Jay Z, who's owned nightclubs, basketball teams, and other entrepreneurial trinkets, insists Tidal's business plan will set it apart. As Keys announced at the event, Tidal is "the first ever artist-owned global music and entertainment platform." These "artists" are all platinum-selling musicians; Nicki Minaj, Madonna, and Coldplay's Chris Martin are among Jay Z's 15 investors. He hasn't yet outlined his pay structure or said how much regular musicians—who don't get the chance to invest—stand to make from his service, but a manifesto posted on the app promises to "reestablish the value of music" and protect "the sustainability of the music industry," as if pop songs are on the verge of extinction.
Spotify, based in Sweden, pays artists from 0.6¢ to 0.84¢ per play, which is chicken feed for a struggling act. But for a star who garners millions of streams, the half-pennies add up. Last year, Swift made as much as $2 million on Spotify before she pulled her songs off it completely. (Her label says it was more like $500,000.) Now Swift's catalog is back online through Tidal, minus her latest album, 1989, which she still prefers to sell for $13 on iTunes.
It's tough to get listeners excited about paying artists more money. So Tidal's also touting lots of non-audio content. As of the relaunch, there's a collection of video perks, such as Daft Punk's Electroma—a 74-minute movie so boring that people walked out when it aired at the Cannes Film Festival in 2006—and a strange, low-res video clip of the White Stripes' first televised performance on a Detroit public access show. Too bad you can already find both these things, for free, on YouTube.
Over time, this exclusive content may become legitimately exclusive. The Swedish website Breakit says Tidal's new team plans to broker deals with labels that allow it to release music before anyone else. West is supposed to drop a new album this year, and it will be a huge win if it lands on Tidal first. Still, Yeezy isn't stupid—even if an album premieres on Jay Z's app, it will eventually show up on all the larger streaming platforms, too.
And so Tidal will probably fail to breach Spotify's stronghold. If anything, the service is vying for second place against Beats Music, now owned by Apple, which similarly specializes in curated playlists for customers who pay as much as $99 annually. That's assuming there's a place in this world for another nice-looking, ultimately uninspiring rip-off of something that already works well. Even if you've never tried Spotify, why would you pay more money for the same music—and some odd videos—that you can get anywhere? So what if you miss out on Tidal's recommendations from Coldplay: The band picked out Oasis's Champagne Supernova and TLC's Waterfalls. That's not even worth half a penny.
Before it's here, it's on the Bloomberg Terminal.
LEARN MORE