The Reviews Are In: Apple Watch Gets Accolades, and a Few Jeers
Chris Spillane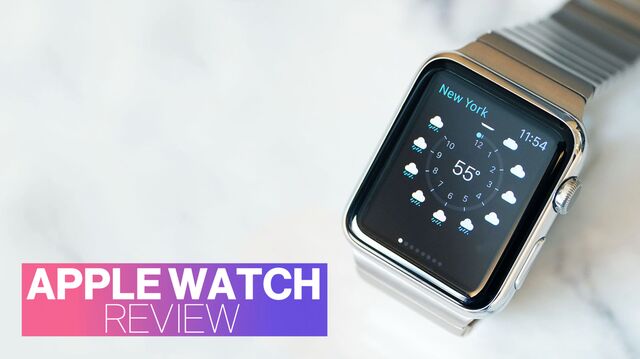 The new Apple Watch garnered a mixture of praise and criticism from reviewers at major news outlets and tech blogs. For anyone considering whether to buy the device -- pre-orders begin Friday -- here is a roundup of commentary on the Apple Inc. device's strengths and shortcomings.
BLOOMBERG BUSINESS: Joshua Topolsky finds that the "beautiful" and "epic" watch delivers on Apple's reputation for elevating the standard in a product segment. But the gadget, which starts at $349, was more of a distraction than his iPhone, he says. Apple has succeeded in making the world's best smartwatch, he writes. "But it's not essential. Not yet."
BUSINESS INSIDER: Apple's first "true luxury" device, which becomes available April 24, is the company's first product to excite reviewer Matthew DeBord. "But the only thing I really want the Apple watch to do is tell time," he says. He plans to wait for the price to come down and purchase the device second-hand or wait until 2018, when he expects the Apple Watch 3 to be released.
THE NEW YORK TIMES: It took four days for Farhad Manjoo to begin appreciating the watch. "But once I fell, I fell hard," he writes. Even then, he says, the gadget is far from perfect. The software's learning curve may put off most consumers and third-party apps are "mostly useless." Still, he used it to pay for cabs and board a plane. "Someday soon, it will change your world," Manjoo writes.
RE/CODE: Lauren Goode says Apple's gadget offers the best experience of the six smartwatches that she has tested. It's also the best-looking smartwatch she's worn and is as easy to navigate as an iPhone. The battery also lasted longer than her iPhone. "But Apple Watch is not a cure-all, and it's likely not a timepiece you will pass down to your grandkids," Goode says.
USA TODAY: Edward Baig has been hunting for a good reason to wear a smartwatch and has found his quarry in the Apple Watch. The option to switch wristbands to suit your outfit or activity, as well as the ability to use it to open a hotel room, leaves him inclined to buy. But taking a call with the watch is hardly discreet, Baig says. "Dick Tracy is overrated."
VERGE: Panic over battery life is overplayed, Nilay Patel writes. Like many reviewers, he says Apple's is the most capable smartwatch available. It's also one of the most ambitious devices he's ever seen, he writes. Yet the watch is slow: apps take "forever" to load and downloading location data over Wi-Fi takes "a long time," Patel says. "What good is a watch that makes you wait?"
WALL STREET JOURNAL: Your time will be well spent with the Apple Watch, writes Geoffrey A. Fowler. It hasn't replaced his phone, but the screen is the ideal size for bite-size moments. The gizmo's success will depend on how efficiently it helps you complete your to-do list, though Fowler suggests you should avoid showering with it, especially a $1,000 version that's as thick as a stack of six quarters. "If you can tolerate single-day battery life, half-baked apps and inevitable obsolescence, you can now wear the future on your wrist."
Before it's here, it's on the Bloomberg Terminal.
LEARN MORE