Scene Last Night: Och-Ziff's Brown, Jeff Koons, Kraus, Aby Rosen
Amanda Gordon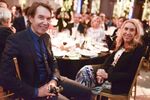 Jeff Koons's hair had grown out at the New Museum gala Wednesday night, a departure from the artist's trademark close trim.
"I like the long hair, it's kind of nice," said Stefano Tonchi, editor of the fashion magazine W.
Koons, running his fingers through his mane, explained: He'd let it grow while snowboarding a lot in Stowe, Vermont. He also sported a splint on two fingers. "I got up on an edge too far," he said.
Otherwise, the art crowd assembled at Cipriani Wall Street looked pretty much the same as it did at the last 10 museum galas (this one raised $2.45 million): Cindy Sherman, Marilyn Minter and Rachel Feinstein came out for the Bowery-based New Museum, which is devoted to contemporary artists, as did James Keith Brown, head of global investor relations at Och-Ziff Capital, and Peter Kraus, chairman and chief executive of AllianceBernstein. Kraus checked out a Mary Heilmann pink and white painting that later went to Charlotte Feng Ford for $60,000 at auction.
As for the topics of conversation:
"We're talking about 'how do you get over 100?'" said real estate magnate Aby Rosen, referring not to the number of galas he has attended, but to longevity. The 54-year-old then picked up a book from his seat about the "five blue zones" in the world where people live the longest. Its author, Dan Buettner, is a friend.
Lamppost Nests
Artist Nina Katchadourian talked about the imagined bird species she's creating for a show in Central Park that opens May 15, organized by Creative Time and the Central Park Conservancy.
"I'm calling them the Lamppost Weavers," Katchadourian said. "They make their nests in the street lights, using leftover sports equipment from the park. There are soccer balls, footballs, tennis balls, running shoes embedded in the nests." While actual birds who weave their nests exist, in this case the weaving will be done by humans from Gowanus, Brooklyn.
Walton Ford, a painter of animals in naturalistic settings, said his dealer, Paul Kasmin, had introduced him to a French businessman; they talked about Ford's Paris show opening in September at the Musee de la Chasse et de la Nature in the Marais. "It's the best museum venue I've ever had for my work," Ford said. "It's a museum devoted to aristocratic traditions of hunting in Europe, and I'm tailor-making pieces."
Critical Couple
Ford also took time to say hello to the honorees, art journalists (and spouses) Calvin Tomkins and Dodie Kazanjian, who have both written about him, "Dodie in Vogue and Calvin in the New Yorker."
On stage, the couple recalled their first date -- Tomkins invited Kazanjian to Andy Warhol's funeral -- as well as an encounter with Cy Twombly. He told them: "I swear, if I had to do this over again I would never share the paintings until after I'm dead. Why should I have to talk about my paintings? I'm making them. Isn't that enough?"
Canceling out the ghost of the cranky artist were Julia Kaganskiy, director of New Inc., the New Museum's art and technology incubator, member artist Rafael Rozendaal, and the synthpop duo Chairlift -- Patrick Wimberly and Caroline Polachek -- who performed. Wimberly trailed Polachek around the party to make sure no one stepped on her white cape.
Before it's here, it's on the Bloomberg Terminal.
LEARN MORE