Satyam Founder Gets 7 Years for India's Biggest Corporate Fraud
Anoop Agrawal and Sharang Limaye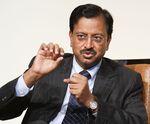 An Indian court sentenced the founder of Satyam Computer Services Ltd. to seven years in prison after finding him guilty of India's biggest corporate fraud.
Ramalinga Raju, 60, had admitted to inflating the software maker's assets by about $1 billion in 2009, triggering an erosion in the shares of the Hyderabad-based company to about a fifth of their previous value. The case led to Satyam's acquisition by Tech Mahindra Ltd. and shareholder lawsuits against the founders and the audit committee.
Nine others, including the company's former chief financial officer Srinivas Vadlamani, managing director B. Rama Raju and chief auditor Srinivas Talluri, were also found guilty and received seven-year terms and fines of 2.5 million rupees ($40,170) each. The two Rajus, who are brothers, were asked to pay an additional penalty of 50 million rupees each.
"The higher fine for the Rajus is because they have been convicted of cheating," said K. Surender, special counsel to the Central Bureau of Investigations. "The have the right to appeal this verdict in a higher court. They will be shifted to a prison now."
Raju, in a January 2009 statement to Satyam Computer's board, said the company's cash and bank balances were inflated by 50.4 billion rupees as of Sept. 30, 2008. He also said statements reflected fictitious accrued interest of 3.76 billion rupees, liabilities were understated by 12.30 billion rupees and its debtor position was overstated by 4.9 billion rupees.
Shareholder Lawsuit
Raju, who was charged with faking invoices, inflating the company's tax liability and understating debt, was granted bail in November 2011 by India's Supreme Court.
In 2011, Satyam Computers agreed to pay $125 million to settle a U.S. shareholder lawsuit alleging securities violations. Other defendants in the lawsuit have also reached settlements. Claims against former members of the company's audit committee and other directors were dismissed by a U.S. judge in January 2013.
On Dec. 8, 2014 the Serious Fraud Investigation Office court sentenced Raju to six months jail and also imposed a 1 million rupee fine in a case related to accounting fraud at Satyam Computer. On last July 15, the Securities and Exchange Board of India, restrained five former executives of Satyam Computer from dealing in any manner in the securities market for 14 years.
Shares of Tech Mahindra, which announced Satyam's acquisition in 2009 and completed it in 2012, fell 0.3 percent in Mumbai Thursday. They have rallied 54 percent in the past year, double the gain in the benchmark S&P BSE Sensex.
Before it's here, it's on the Bloomberg Terminal.
LEARN MORE