Rush of Buyers Leaves Hong Kong Exchange Ready for China
Eduard Gismatullin and Rob Urban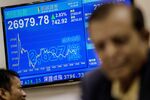 Hong Kong's stock exchange said its systems have plenty of capacity to handle greater inflows from mainland China, including an impending trading connection with the Shenzhen bourse, even after a week of intense volume.
Hong Kong Exchanges & Clearing Ltd. has had record trading for two days this week as fund managers based on the mainland used a change in regulations to increase their holdings of Hong Kong shares. Turnover through the link between the Shanghai and Hong Kong markets surged as investors twice used up their daily quota for buying Hong Kong stocks.
HKEx's systems performed perfectly, based on trades per second, total orders and other measures, according to the company's co-head of global markets, Romnesh Lamba.
"We did hit a number of records yesterday on some of those metrics," he said in an interview in Hong Kong on Thursday. "But across the board, we are still well below capacity limits."
The bourse, which overtook CME Group Inc. as the world's largest exchange by market value on Wednesday, should see greater activity on the link with Shanghai -- dubbed Stock Connect -- as the presence of mainland investors adds to the clamor for the authorities in China and Hong Kong to increase the quotas.
"It could be changed quite quickly, but it's really up to both sets of regulators," he said. "We can implement the daily quota change at a pretty short notice."
HKEx expects trading limits to be expanded, said Chief Executive Officer Charles Li. Institutional and individual investor demand for equities trading in Hong Kong has surged, he said.
"People decided that there is value here for whatever reason, fundamental value or trading value," Li told reporters in Hong Kong. "There is plenty of time, plenty of opportunity and plenty of money to make."
Further growth will come in the second half of the year when the Shenzhen Stock Exchange joins Stock Connect, Lamba added.
Maximum Allowed
Chinese investors bought 10.5 billion yuan ($1.7 billion) of Hong Kong shares -- the maximum allowed -- on both Wednesday and Thursday. They acted after the Chinese regulator late last month announced that more fund managers could buy equities listed in the former British colony.
"Increasing the quota will be a natural evolution for authorities," said Kay Van-Petersen, a strategist at Saxo Capital Markets in Singapore. "The Shenzhen connect is even more exciting."
As well as the daily quota for stock purchases, investors have to contend with an overall limit on the value of equities they can hold. International investors have used about 40 percent of their total quota for buying Shanghai-listed shares through Stock Connect. The impending link with the Shenzhen market may further increase foreign investors' appetite for mainland equities, Lamba said.
"What Shenzhen does is it broadens the suite of available stocks for northbound investors," he said. "There will be probably some modification to quota -- at least for northbound - - when you are adding the whole bunch of shares to it."
Before it's here, it's on the Bloomberg Terminal.
LEARN MORE