Rand Paul: NRA Was 'Petty' in Not Inviting Him to Conference
Senator hits back at gun-rights group for not inviting him
By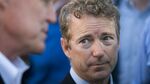 MOUNT PLEASANT, S.C.–Jeb Bush will be there. Wisconsin Governor Scott Walker will be there. Even Donald Trump and South Carolina Senator Lindsey Graham will be in Nashville tomorrow to address the NRA's leadership forum, a part of its annual conference that introduces gun owners to presidential candidates.
Kentucky Senator Rand Paul, who is campaigning in Iowa on Friday morning, will not be in Nashville. That's because he wasn't invited. As Olivia Nuzzi reported in the Daily Beast, Paul joined New Jersey Governor Chris Christie in the elite, unhappy club of Republicans snubbed by the NRA this year. 
In an interview with Bloomberg, Paul confirmed that the NRA was rapping him on the knuckles for his work with groups like the National Association for Gun Rights and Gun Owners of America. Both hold politicians to higher standards than the NRA, as Virginia Representative Scott Rigell found in 2013, when his support for some version of "gun safety" legislation drew attacks from the NAGR.
"The interesting thing is that there's probably no greater advocate for the Second Amendment in Congress than myself," Paul said today. "To not be invited, probably, will serve more to cast aspersions on their group than it would on me. Because my record's pretty clear. It probably looks a little bit petty for them not to invite a major candidate because I raised money for other Second Amendment groups."