Paris in Spring Means Carry a Mask Along With Your Umbrella
Helene Fouquet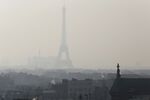 Set aside any romantic notions of Paris in the spring. Visitors to the French capital are facing the choice of using an umbrella or wearing a mask.
Paris is suffering under a seasonal pollution crisis that may drive the concentration of particles called PM10 and PM2.5 in some areas to levels as thick as in Beijing on Thursday, according to Airparif, the city's air-quality monitor. The pollution alert was extended to Friday. The dirtiest areas are tourist hot spots including Rue Royale near Place de la Concorde, rue de Rivoli near the Louvre museum, the Grands Boulevards near department stores and the Marais.
Urban canyons trap the particles, said Frederic Mahe, a pollution analyst for Airparif. "The level of pollution there can be as high as in the middle of a highway."
The outbreak that appeared Tuesday resulted from a host of human and environmental reasons: a mix of cold nights and hot or wet days; farmers in northern and eastern France spreading manure that releases particles of nitrogen; and pollution blowing from eastern neighbors.
Parisians and visitors alike are confronted with either rain, when pollution levels drop, or bright sunshine and sudden peaks in temperature that require pulling out the mask in parts of the city.
Paris Mayor Anne Hidalgo has responded by permitting free car parking, bans on heavy trucks and free rentals of bikes and the city's fleet of electric cars. She has also clashed with Environment Minister Segolene Royal.
Royal argues that limiting cars to driving on alternate days curtails "freedom" of movement. Last month, Royal's rebuke forced Hidalgo to call on President Francois Hollande to intervene. He sided with the mayor.
Diesel Ban
Such traffic restrictions imposed in March 2014 effectively lowered emissions and alleviated smog choking the French capital, according to Airparif.
The mayor also called for a ban on diesel vehicles from before 2001. Hollande, who praised new diesel engines as he visited a Peugeot SA factory on March 29, offered a 10,000 euro-premium ($10,800) for owners of old diesel cars to switch to electric vehicles and 6,500 euros for hybrid cars.
It's not the best timing for France to be wrestling with environmental crises.
Hollande wants to show he's serious about cutting emissions to showcase the country's role as the organizer of the United Nations Climate Change conference in December this year. The goal of the Paris gathering will be for countries to sign a deal reducing greenhouse-gas emissions to fight global warming.
For Hidalgo, cutting emissions isn't just for tourists.
Lowering particles PM10 to World Health Organization levels would avoid 476 hospital admissions a year and 112 deaths. Complying with WHO requirement for smaller PM2.5 particle levels would add six months to residents' life expectancy, representing 4 billion euros of economic gain, according to a 2011 study by the French health ministry.
Long-Term Pain
"Pollution spikes are just the tip of the iceberg," Olivier Chanel, a researcher in environmental economics at the government-supported science agency CNRS who participated in the study, said in an interview. "The real cost of pollution is in the long term, daily exposure: premature death, chronic respiratory and heart diseases."
More than one quarter of the Paris region's 12 million residents were exposed to excessive pollution in 2013, Airparif reported.
The hope is that next spring will be better.
An "anti-pollution plan" will ban older polluting diesel vehicles from July. The mayor is awaiting Royal's decision on preventing high-polluting vehicles from the Champs Elysees, the Marais and rue de Rivoli.
Hidalgo's next plan is for bikes. She promised to turn Paris into the "world capital of cycling." The city will spend 150 million euros by 2020 to double bike lanes, add bike parking spots, build new routes and barrier-protected bike highways and give financial incentives to buy electric bikes.
"Fighting pollution can't be a brake on economic and tourist activity," Nadhera Beletreche, a spokeswoman for the Paris mayor said. "But our role is also to ensure the safety of Parisians and making Paris a clean-air city, attractive also for that reason."
Before it's here, it's on the Bloomberg Terminal.
LEARN MORE