Obama Says in Pot-Friendly Jamaica Not to Expect Law to Ease
Toluse Olorunnipa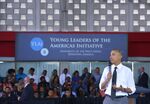 Visiting a Caribbean island famed for its Rastafarian vibe, President Barack Obama was asked the inevitable: Would the U.S. legalize marijuana any time soon?
"How did I anticipate this question?" Obama said Thursday, responding to a query during a forum in Kingston, Jamaica.
Speaking to young leaders at the University of the West Indies, Obama, who has acknowledged taking a toke or two in his youth, ruled out nationwide action amid debate in both the U.S. and Jamaica -- where reggae singer Bob Marley championed the leafy substance.
"I do not foresee anytime soon Congress changing the law on a national basis," Obama said, a day after touring the Bob Marley Museum in the nation's capital. Jamaica in February decriminalized small amounts of pot and set up an agency to regulate the medical marijuana industry.
Obama said while he doesn't believe the U.S. will legalize marijuana nationally anytime soon, the experiment of legalization in Colorado and Washington could "spur a national debate."
"I have to tell you that it's not a silver bullet," Obama said. "If you are legalizing marijuana then how do you deal with other drugs and where do you draw the line?"
In Congress, 18 members have asked Obama to reclassify marijuana as a less dangerous drug, after 23 states legalized it in some form, according to Bloomberg Intelligence. As many as nine states may have adult-use measures on the 2016 ballot.
"Our current policy continues to be that in the United States we need to decrease demand," he said. He also said decriminalizing marijuana would help limit the damage of incarceration in U.S. communities.
In Jamaica, which has a reputation as a pot-friendly culture, the government legalized possession of as much as 2 ounces, legalized religious use and cultivation of small numbers of plants and cleared the way for more rules governing medical use.
Before it's here, it's on the Bloomberg Terminal.
LEARN MORE