Nuclear France's Sun Power Record Leaves Utilities in the Shade
Tara Patel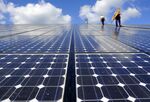 Sunshine brought more than spring flowers to France this week. Panels across the country pushed solar output to new highs of more than 4,000 megawatts, grid data show.
That surge in a nation more dependent than any other on nuclear power illustrates the fundamental change taking hold across Europe's energy industry. It also signals more pain to come for traditional utilities in the region like Electricite de France SA and EON SE in Germany.
"This is the biggest revolution since the nuclear reactors were built in the 1970s," said Josef Pospisil, an analyst at Fitch Ratings in London. "There will be utilities in the future, but they may look very different."
After outperforming the market for most of the past decade, power companies were at the bottom of the rankings as European stocks hovered near new highs last month. The utilities component of the STOXX Europe 600 returned 3.1 percent in the first quarter, lagging the 17 percent gain in the benchmark and a 32 percent jump for carmakers. That probably won't change anytime soon.
Suffering from weak demand for energy due to relatively warm weather, utilities are also being hurt by sluggish industrial activity and increasing renewable-power supplies, according to a Fitch study last month. "Elevated political risks" as governments in France and other countries seek to limit consumer bills and Belgium taxes atomic energy are adding to their woes, the ratings company said.
Outlook Weakening
"Once again the outlook is weakening for the utilities when other sectors foresee improving momentum," said Louis Boujard, an analyst at Oddo Securities in Paris.
RWE Chief Executive Officer Peter Terium has described a "dramatic situation" in conventional power generation and the German utility predicts an operating loss in the not-too-distant future.
In France EDF CEO Jean-Bernard Levy last month warned the utility has to find a way to stop "bleeding cash" as it tries to reconcile the cost of refurbishing aging nuclear reactors and government-imposed caps on power rates. France gets more than three-quarters of the electricity it produces from 58 atomic reactors. Solar output tripled over the past three years.
Proposed remedies differ in their approach. Among the most radical, Germany's largest utility EON SE plans to break itself up, spinning off fossil-fuel power plants into a separate company to focus on renewable energy. The reorganization is in response to Germany's unprecedented switch to reliance on wind and solar power that has helped to undermine prices.
Best Approach
GDF Suez SA has adopted a more gradual approach by closing or mothballing more than 11,000 megawatts of capacity in Europe as it seeks to expand in energy services, renewables and smaller-sized generators in the region. It also wants to expand into Asia, Latin America and the Middle East.
"Winners and losers will emerge from the shake up," said Oddo's Boujard. "Time will tell which approach is best."
European utilities were able to outperform the wider European equity for so long thanks to significant dividend distributions, according to a report by Sanford C. Bernstein. These are becoming more difficult to protect amid cost-cutting.
Centrica Plc, the biggest supplier of energy to U.K. households, has said it would sever the link between payout and profit, instead basing it on operating cash flows. The Windsor, England-based company reported a loss of 1 billion pounds ($1.47 billion) last year.
This followed a similar switch in dividend payment by RWE, which operates Germany's largest fleet of coal-fired stations and has sought to cut costs and sell assets. EON cut its dividend for this year and 2014.
"There is uncertainty about the future of the industry as it goes through a painful transition phase as it faces weak energy demand growth and competition from renewables," according to Bloomberg Intelligence analyst Elchin Mammadov. "The utilities that successfully emerge at the end of this process will be leaner and more nimble companies."
Before it's here, it's on the Bloomberg Terminal.
LEARN MORE