Marriage Rights Won't Save Gays From Being Fired in Most States
Greg Stohr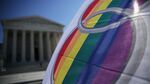 Same-sex couples across the U.S. may soon have the legal right to marry. In 28 states, their employer will still have the legal right to fire them.
Even as the U.S. Supreme Court prepares for arguments this month on legalizing same-sex marriage nationwide, gays in much of the country lack the anti-discrimination protections that apply to racial minorities and women.
It's a legal anomaly that could become a new flashpoint this summer if the Supreme Court backs marriage rights. Gay-rights advocates are vowing to push for changes to anti-discrimination laws and try to overcome longstanding resistance from Republican-controlled legislatures.
"Otherwise, these couples are going to hold public weddings and get fired from their jobs," said David Codell, constitutional litigation director at the National Center for Lesbian Rights.
Anti-discrimination statutes have taken on increased prominence in recent weeks in the debate over new religious-freedom laws in Indiana and Arkansas. Both states made last-minute revisions to alleviate concern -- much of it from businesses -- that the measures would authorize discrimination against gay people.
Yet Indiana and Arkansas already were among the 28 states, primarily in the South and middle of the country, where gays can be denied private-sector jobs or housing purely on the basis of sexual orientation. In 29 states, gays can be refused service in retail stores.
Public Opinion
That legal regime survives amid increasing opposition to discrimination. A YouGov/Huffington Post poll last year found that 76 percent of American adults thought it should be illegal for an employer to fire someone for being gay.
Somewhat inconsistently, only 50 percent said they would back a law prohibiting job discrimination against gays and lesbians, with 38 percent opposed. The poll had a margin of error of plus or minus 4.0 percentage points.
"The country agrees that these protections should exist," said James Esseks, a lawyer who leads the gay-rights project at the American Civil Liberties Union. "It's the politicians in the middle who are not reflecting where the country is on these issues, both on marriage and on civil rights protections for gay and transgender people."
Suffering Discrimination
A 2011 report by the UCLA School of Law's Williams Institute found that 42 percent of gay and bisexual people said they had experienced workplace discrimination in their lifetimes, 27 percent during the five years surveyed.
Federal anti-discrimination statutes don't cover sexual orientation and no state laws did either until Wisconsin made the move in 1982. Although Utah this year became the 22nd state to extend anti-bias protections to gays, the pace is far slower than the breakneck speed of the marriage movement.
The same-sex marriage drive has been fueled by court decisions declaring bans unconstitutional and could culminate in late June, when the Supreme Court is likely to rule.
Some states are moving to further reduce gay rights. A bill being pushed by Texas Republicans would override local laws that bar sexual-orientation discrimination in the state's urban centers. The religious-freedom measures in Indiana and Arkansas threatened to have a similar impact until they were revised.
Tide Turning
Still, the backlash against the Indiana and Arkansas proposals suggests the tide may be turning in favor of gay rights. Businesses, including Wal-Mart Stores Inc. and Eli Lilly & Co., joined forces with gay-advocacy groups to denounce the measures.
Separately, more than 100 tech industry leaders are calling on lawmakers to add protections for gay and transgender people to existing civil rights laws.
Politicians who have resisted anti-discrimination laws are treading carefully. Speaking on CBS's "Face the Nation" program Sunday, former Pennsylvania Senator Rick Santorum, a potential Republican presidential candidate, said "no business should discriminate against you because of who you are."
Another possible Republican candidate, Louisiana Governor Bobby Jindal, said on NBC's "Meet the Press" that restaurants shouldn't be allowed to turn away gay diners. At the same time, Jindal said florists, caterers and musicians with religious objections shouldn't have to participate in same-sex wedding ceremonies. And he said new anti-discrimination laws aren't necessary to protect gays.
"My concern about creating special legal protections is, historically in our country, we've only done that in extraordinary circumstances," Jindal said. "And it doesn't appear to me we're at one of those moments today."
Overcoming Misinformation
Proponents of expanded discrimination protections will have to overcome misinformation as well as opposition. In the YouGov poll, only 14 percent correctly responded that it is legal under federal law to fire someone based on sexual orientation. Sixty-two percent wrongly said it is illegal.
That lack of understanding is one reason gay-rights advocates say they expect the fight over anti-discrimination laws will take time.
"If we win the marriage cases at the Supreme Court, we're going to have marriage in all 50 states and we're not going to pass civil rights for gay and transgender people in all those states that quickly," Esseks said. "And we're not going to pass it that quickly in Congress either, but we should."