Kaisa Says Courts Preventing Full Sales of Shenzhen Projects
Michelle Yun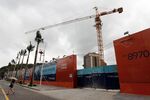 Kaisa Group Holdings Ltd., a Chinese developer linked to a graft probe, said courts are preventing it from selling real estate in Shenzhen projects, even as authorities lifted a four-month restriction on some sales.
The city's land commission had released 124,355 square meters (1.3 million square feet) for sale as of April 7 at four Shenzhen developments, leaving 93,515 square meters blocked, Kaisa said in a statement Thursday. However, the company also said that 111,833 square meters at the projects are frozen by local court orders.
It wasn't clear how much of the real estate released by the local government remains blocked from sale by the courts.
"No one can say that the projects can now be completely, freely sold," said Edison Bian, Hong Kong-based head of China property research at UOB-Kay Hian Holdings Ltd. "It's not as bullish as people think. Uncertainties are still looming, maybe even more than before."
Kaisa is negotiating with offshore investors to restructure its debt, a prerequisite for biggest shareholder Sunac China Holdings Ltd. to complete an acquisition of the company. Sunac Chairman Sun Hongbin said last month overseas creditors didn't realize how serious Kaisa's financial position was and his company will look for other opportunities if an agreement can't be reached.
The developer's bonds due in 2018 rose 0.7 cents on the dollar to the highest in almost two months at 60.2 cents as of 1:33 p.m. in Hong Kong, according to prices compiled by Bloomberg. They jumped 3.1 cents Wednesday, the biggest increase in four weeks.
Homeowners' Solace
Kaisa said in its statement that its creditors have filed a total of 70 applications to preserve their assets. Of those, courts had ruled on 28 applications to protect about 14.8 billion yuan ($2.4 billion) of assets.
The court freezes are an additional hurdle to people trying to establish their ownership of properties in the Shenzhen developments. More than 900 homes have been sold but haven't been registered officially due to the blockages, according to Yi Anwen, a 33-year-old engineer who represents the buyers and is one of the owners.
"For us, remaining locked by the government was somewhat of a solace" because there was hope that the freeze could be lifted at the authorities' discretion, Yi said by phone from Shenzhen. "Now all the hope" hinges on a successful debt restructuring that would lead to the court freezes being removed, he said.
Trading Halt
Kaisa's shares have been suspended from trading in Hong Kong since March 31, the same day Kaisa postponed the release of its 2014 results to give auditors more time to verify its accounts. There may be a "significant adjustment" to its unaudited numbers, the company said, without specifying when it will release the results.
The stock slumped 50 percent in the past six months as the government blocked approvals of its property sales and new projects in Shenzhen, restrictions that were linked to a bribery investigation of the city's former security chief Jiang Zunyu.
Before it's here, it's on the Bloomberg Terminal.
LEARN MORE