Iran's Middle Class Plans for Life After a Deal
They're celebrating in the streets but still buying dollars
By and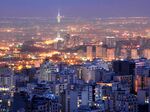 One of the first things Leila Daneshvar did after Iran agreed to a framework for a nuclear accord was to contact European suppliers that had shunned her company because of the sanctions imposed on the Islamic Republic. Trade restrictions had forced Daneshvar to rely on Chinese suppliers to make the medical rehabilitation equipment her Tehran-based company sells. Sanctions that cut off Iranian banks from the global financial system meant she had to fly with cash to Beijing and Shanghai to pay suppliers in person. Now European suppliers say her requests are under consideration. "Finally the gates open," she says. "I know it's not going to be immediately all right, but we're happy that things are moving forward."
Daneshvar is a member of Iran's much-battered middle class, which has been waiting for sanctions to end so they can rebuild careers and businesses at home. After the interim agreement was announced, thousands took to the streets to celebrate what many see as a milestone in the quest to end the country's pariah status. A survey by the Islamic Republic News Agency said 82.6 percent of Iranians expressed "optimism" and "happiness" over the accord.
Stocks in Tehran rallied 3.2 percent after the announcement, even though negotiators aren't expected to reach a final agreement until June to curb Iran's nuclear research in exchange for easing sanctions. The deal faces opposition from Israel, conservatives in the U.S., and hardliners at home.
The previous government, led by Mahmoud Ahmadinejad, focused on helping poor Iranians, to earn their political allegiance. His government distributed stock in privatized firms, dubbed justice shares, to low-income households and the families of those killed in the war with Iraq. Middle-class Iranians who weren't his core supporters were mostly neglected. In 2012 and 2013, Ahmadinejad's last years in office, the rial, Iran's currency, lost more than two thirds of its value against the dollar as families turned to gold and foreign currency to safeguard their savings.
The administration of President Hassan Rouhani has stabilized the currency and reduced inflation to 15 percent. That's still the second-highest in the Middle East after Sudan, International Monetary Fund data show. As the economy emerges from recession, growth in non-oil industries remains well below the level needed to create enough jobs. In downtown Tehran, foreign-exchange traders on the unregulated market say the framework accord hasn't weakened demand for dollars as customers wait to see what negotiations yield in June. "That's when you know it's a deal and not an understanding," says Khosrow Abdi, a trader.
Private manufacturers and importers have been squeezed hard by the sanctions, which increase transportation, insurance, and transaction costs: Unlike state-owned companies, they have no government aid to fall back on. Iran's university graduates often emigrate instead of seeking careers at home. Tehran's Enghelab Square daily becomes a market where fixers prepare and translate the documents needed to move abroad. Those who study overseas often don't come home. A 2012 survey by the Washington-based National Science Foundation said 89 percent of Iranian doctoral students remained in the U.S. after graduation.
Municipal worker Ali Reza says it's a challenge to make ends meet on his monthly income of 14 million rials (about $500), half of which he earns working overtime. "I control the household expenses, and it's been really bad at times," says his wife, Masoumeh. "You go out with an empty basket, and you come back with an empty basket."
Despite the continued hardship, the mood has changed. "Difficulties and lack of hope in the future had made Iranians very frustrated," says Shahnaz Khonsari, an art gallery owner. Now "a beautiful feeling of optimism is palpable in Tehran. You see people smiling at one another and saying, 'Hey! It did happen!' "
The bottom line: Middle-class Iranians hope a definitive nuclear pact will help restore their purchasing power and revive their businesses.
Before it's here, it's on the Bloomberg Terminal.
LEARN MORE