Iran Nuclear Deal Hits a Stumbling Block: the Supreme Leader
Terry Atlas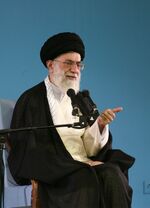 The nuclear deal Iran and world powers are trying to negotiate hit a roadblock Thursday when Iran's supreme leader said economic sanctions on his country must be lifted as soon as an accord is signed and Iran's military facilities will remain off-limits to international inspectors.
His assertions contradict U.S. and French descriptions of the political framework that negotiators announced on April 2 in Switzerland, with three months left to work out the details before a June 30 deadline.
"Sanctions should be removed at once," said Ayatollah Ali Khamenei in his first public comment on the negotiations. He would have to approve whatever Iran's negotiators work out with China, France, Germany, Russia, the U.K. and U.S.
Oil markets reflected the doubts about the outcome of the talks. Brent for May settlement climbed $1.19, or 2.14 percent, to end the session at $56.74 a barrel on the London-based ICE Futures Europe exchange.
Khamenei's remarks could be a negotiating tactic. One critic of the potential Iran deal, Mark Dubowitz, executive director of the Foundation for Defense of Democracies in Washington, said the supreme leader's comments "will put enormous pressure on President Obama to make even more significant concessions if he wants to turn an increasingly not-agreed framework into a final deal."
Cliff Kupchan, chairman of the New York-based Eurasia Group, which monitors political risk, sees what amounts to a "public relations duel at this point."
"The U.S. has taken strong positions on unresolved issues, and Khamenei, naturally as a good bargainer, pushed back with strong positions of his own," he said.
Dueling Sanctions
The U.S. position is that sanctions relief could come only after Iran fulfills its initial commitments to curb its nuclear program, probably months after a deal is signed. In addition, U.S. and French "fact sheets" summarizing the framework hammered out in Switzerland say sanctions would "snap back" if Iran were caught cheating.
Other potential deal breakers include limits on Iran's uranium enrichment and nuclear-related research and development, the extent of international inspections and steps to resolve questions about suspected past nuclear-weapons work.
Allowing international inspectors into Iranian military facilities is key to a credible inspection regime and to resolving questions about what are called the "possible military dimensions" of Iran's nuclear research.
For years, Iran has refused to let International Atomic Energy Agency inspectors into a suspect area of the Parchin military complex, southeast of Tehran, where the government allegedly conducted nuclear-weapons related experiments more than a decade ago. Iran denies that it's carried out any work related to a nuclear device there.
Off Limits
U.S. Secretary of State John Kerry said Wednesday that Iran must resolve the military questions, but Khamenei appeared to foreclose any inspections of Parchin, saying military authorities "are not -- under any circumstance -- allowed to let in foreigners" to Iran's military facilities. That also could cripple plans for anywhere, anytime inspections to prevent Iranian cheating.
In his statement, Khamenei refrained from endorsing the political framework. He said he's "neither for nor against" it, saying much remains to be resolved, and he questioned whether it's possible to complete a comprehensive accord by the June 30 deadline.
"This three months time is not an unchangeable matter," he said of the deadline. "If this period increases it's not a problem at all."
After extending the negotiations twice, U.S. officials have been wary of seeing the talks run much past June 30, in part because Congress -- where there's broad mistrust of Iran's intentions -- is poised to vote on additional sanctions.
'Absolutely Critical'
"This is not done until it's done, and the next two to three months of negotiations will be absolutely critical to make sure we are memorializing an agreement that gives us confidence and gives the world confidence Iran is not pursuing a nuclear weapon," President Barack Obama told reporters on Thursday during a visit to Jamaica.
Underscoring the uncertainties, the U.S., Iran and France have issued what each says are the understandings reached in the framework, and the differences and omissions among the three versions have raised questions about how much agreement there really is. U.S. officials have said privately that some commitments by Iranian negotiators haven't been made public.
The framework was intended to leave just the technical details to be filled in on a complicated accord. Yet the remaining issues are more than "technical," and Khamenei disputed what the U.S. has said.
"Americans offered a fact sheet that most of it was contrary to what was agreed," Khamenei said via Twitter. "They always deceive and breach promises."
State Department spokesman Jeff Rathke said Wednesday that the U.S. stands behind its version of the framework.
Here are some of the most important disputes:
Sanctions
Khamenei said the sanctions should be "removed just when the deal is reached," and Iran has consistently pressed for sanctions to end when the deal is signed.
The U.S. fact sheet says that U.S. and European Union nuclear-related sanctions would be suspended after the IAEA verifies that Iran has taken "all of its key nuclear-related steps." United Nations sanctions would be lifted only after Iran addresses "all key concerns," according to the U.S. version.
The French fact sheet also says that sanctions relief would follow Iran's implementation of all key commitments.
"If the lifting of sanctions is linked to a new process, the basis of the negotiations is pointless because the point of the talks is to remove the sanctions," Khamenei said.
Uranium Enrichment
The accord aims to limit both the number of operating centrifuges and the size of Iran's stockpiles of low-enriched uranium to help ensure at least a one-year "breakout" period - - the time it would take to produce enough highly enriched uranium to fuel a nuclear weapon.
Iran says the restrictions on uranium enrichment would last 10 years, while the U.S. says some elements would last 15 years.
The U.S. and Iran also offer differing language about how restrictions would apply to Iran's research and development on more advanced centrifuges, which can speed uranium enrichment and reduce Iran's "breakout" time.
This has been troubling to U.S. critics and Israeli Prime Minister Benjamin Netanyahu, who've said they worry that after 12 to 14 years, Iran could to break out with almost no warning.
Inspection Regime
The U.S. says, "Iran will be required to grant IAEA access to investigate suspicious sites or allegations of covert enrichment" or certain other facilities tied to the nuclear fuel chain "anywhere in the country." There's no explicit reference in the fact sheet about whether or not that extends to military facilities.
Iran hasn't commented on this provision.
Possible Military Dimensions
Iran is widely believed to have worked on developing a nuclear warhead in a covert program before 2003, including work at Parchin. Iran has denied pursuing a warhead-development program and claims that the IAEA questions are based on fabricated intelligence.
Iran has thwarted the IAEA's efforts to resolve the questions, and critics of a deal say that information about Iran's past actions is vital to devising a credible inspection and verification regime.
France says Iran has agreed to "concrete measures" to resolve the issues.