GE Close to Real Estate Sale to Blackstone, Wells Fargo
Devin Banerjee and Hui-yong Yu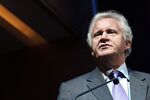 Blackstone Group LP and Wells Fargo & Co. are nearing a deal to buy a real estate portfolio from General Electric Co. worth as much as $30 billion, according to a person with knowledge of the matter.
An agreement may be announced as soon as tomorrow, said the person, who requested anonymity because discussions were continuing. Representatives for GE, Wells Fargo and Blackstone declined to comment.
GE is taking advantage of robust demand for commercial real estate as prices surge past the prior boom in 2007, which was symbolized by Blackstone's buyout of Equity Office Properties Trust for $39 billion. U.S. commercial values have since reached records as investors from around the globe seek places to put money at a time of near-zero interest rates.
A sale of assets valued at $30 billion could generate as much as $4.75 billion in cash for GE, based on historical debt ratios for real estate investments and an expected deal premium, said Nicholas Heymann, an analyst at William Blair & Co.
Unloading the assets would further Chief Executive Officer Jeffrey Immelt's goal of shrinking GE Capital, whose lack of access to credit during the 2008 financial crisis put the parent company at risk. GE Capital has been disposing billions of dollars in holdings, including foreign bank stakes, while Immelt works to bulk up the industrial side of GE's business.
GE, based in Fairfield, Connecticut, rose 2.9 percent, the most in more than a year, to $25.73 in New York trading. The Wall Street Journal reported the discussions earlier.
Blackstone Built
Blackstone has built the largest global real estate investing business, overseeing $81 billion in assets as of Dec. 31. The New York-based firm gathered $14.5 billion for its latest property fund in about fourth months, a person familiar with the process said last week, and is planning to collect an extra $1.3 billion in coming weeks. Its seven previous global property funds have doubled their invested capital, with annualized returns of 18 percent after fees since 1994, according to the firm's most recent earnings statement.
GE and Blackstone have a long history of working together. Blackstone previously bought billions of dollars of real state from GE, including apartment properties in the U.S. and Japan and office buildings in Australia. The industrial company's lending arm in 2011 agreed to provide about $800 million to help finance Blackstone's $1.08 billion purchase of U.S. suburban office buildings in GE's first large commercial real estate financing since the credit crisis.
Wells Fargo has purchased portfolios of commercial real estate loans from rivals as it seeks to add higher-yielding assets amid low interest rates. In July 2013, the bank agreed to purchase about 4 billion pounds ($5.9 billion) of "high-quality" assets from Commerzbank AG and its Eurohypo U.K. real estate lending unit.
Before it's here, it's on the Bloomberg Terminal.
LEARN MORE