Ancient Iranian Trade Ties Fire Dubai Market After Nuclear Deal
Nafeesa Syeed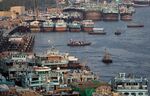 The wooden dhows piled with tires, air conditioners, cooking oil and clothing were preparing to sail for Iran from a Dubai wharf, the cargoes testament to a centuries-old trade that survived years of sanctions.
As they secured their loads, the ships' crews were upbeat as last week's accord over the Islamic Republic's nuclear program brought the lifting of sanctions and the return to unfettered commerce one step closer. Few places are better located to benefit than the United Arab Emirates, Iran's second-biggest trading partner after China since 2009, data compiled by Bloomberg show.
Investors signaled their enthusiasm on the first day of trading after the April 2 pact. Dubai's benchmark stock index surged the most in two months on bets that the U.A.E. trade hub is set to increase its role as a the main channel for business in and out of Iran.
"Iran is a rich country," said Sultan Yusuf, a dhow captain who has spent a quarter century ferrying goods across the Persian Gulf to the ports along Iran's southern coast, conducting his business in Arabic and Farsi. "But if there are economic sanctions, it can't advance."
Dubai, home to the world's second-largest Iranian diaspora community, was at the forefront of both legal and illegal trade with Iran as world powers tightened the noose on its economy over concerns it might develop nuclear weapons. The emirate's transformation into the Middle East's banking, trade and transport hub will give it an edge over competitors if a final nuclear deal is sealed and sanctions are peeled away.
Global Banks
Banks including HSBC Holdings Plc and Citigroup Inc. set up their regional headquarters in the city, while Jebel Ali Port, operated by DP World Ltd., is the biggest in the region.
Iran might be stuck for a while. Sanctions will only be eased once its compliance with any permanent accord has been attested by international monitors.
The expected gradual opening of country's markets to foreign investors means "equity plays on Iran will be more appealing than direct investors," Cairo-based investment bank EFG-Hermes said April 5. Dubai's major ports, such as Jebel Ali, have infrastructure "ready to feed into the Iranian market," said Simon Kitchen, a strategist at EFG-Hermes.
Shares of DP World have jumped about 9 percent since April 2 to $23.66, valuing the company at about $20 billion.
"You'll be able to see maybe a pickup in trade with Iran by the end of the year" if sanctions are suspended, he said.
A spokesman for DP World said Jebel Ali is well positioned to benefit once sanctions end.
Sanctions Impact
Iranians have traded with the Arabian peninsula for centuries and almost half a million now live in the U.A.E., building prominent business families, according to a 2011 report by Karim Sadjadpour, a senior associate at the Carnegie Endowment for International Peace.
The 1979 Islamic revolution added to the community's numbers as Iranians sought better opportunities and an escape from social restrictions imposed by ruling clerics.
By 2013, sanctions had cut two-way trade but Iran was still the U.A.E.'s fourth-biggest trading partner. Machinery, electronics, vehicles, aircraft and transport equipment, and textiles make up much of the U.A.E. exports.
Much of it leaves via the Dubai creek, one of the emirate's oldest trading harbors and the birthplace of its pearl-diving industry a century ago.
Accord Challenges
A permanent nuclear agreement, targeted for end-June, is expected to increase shipments but will throw up challenges, analysts said.
"Dubai will lose its near-monopoly position with trade with Iran," said Hassan Hakimian, director of London Middle East Institute at the School of Oriental and African Studies. "In the face of growing competition, it will have to reinvent, revisit, reexamine its relationship with Iran."
Increased Iranian oil sales may further lower prices of crude, leaving the U.A.E. with a larger deficit to finance or needing to cut spending, said Khatija Haque, head of research for the Middle East and North Africa at Emirates NBD PJSC, Dubai's biggest bank.
Still, "the U.A.E., and Dubai in particular, is well-positioned to benefit from any rolling back of sanctions on non-oil trade and financial transactions with Iran," Haque said in an e-mail.
Wharf Caution
Other non-oil sectors that could profit include logistics, construction, tourism, real estate and airlines, including Air Arabia PJSC, a Sharjah-based budget carrier that flies to seven Iranian cities, economists and analysts said.
Towering above the dhows being loaded down at Dubai's creek, the offices of Bank Melli Iran, among the financial institutions targeted by sanctions, point to the emirate's head start.
Nearby, Iranian dhow owner Rahim Liravi, who lives in the U.A.E., listed the hurdles he and his compatriots face, from customs regulations to foreign exchange restrictions. Last week's accord has sparked optimism and Liravi said he hopes it does not get stalled in forthcoming talks.
"Everyone is thinking, 'after three months will they be sure about this agreement?'" he said.
Before it's here, it's on the Bloomberg Terminal.
LEARN MORE