Cuba Relations Thaw Reversal Unlikely, Head of U.S. Chamber of Commerce Says
Angela Greiling Keane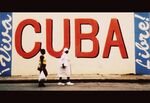 Republicans who oppose restoring U.S. ties with Cuba are unlikely to roll back the policy shift by President Barack Obama, even if their party takes the White House in 2016, the head of the U.S. Chamber of Commerce said.
"The cat's out of the bag and you're not going to catch it," Tom Donohue, president of the Washington-based organization, said Thursday in an interview in Panama City ahead of a summit of North and South American leaders.
Donohue's group, which is the largest U.S. business lobby, has supported Obama's effort to normalize relations with the Communist island nation after more than half a century of estrangement. The U.S. policy change announced in December has been criticized by lawmakers including Republican presidential contenders Marco Rubio and Rand Paul.
Delta Air Lines Inc., United Continental Holdings Inc. and American Airlines Group Inc. have all signaled that they are interested in offering commercial flights to the island when restrictions are eased. American Express Co. and MasterCard Inc. said they are moving to lift a block on U.S. bank card transactions.
Cuban Foreign Trade Minister Rodrigo Malmierca Diaz said his nation needs about $2.5 billion in foreign investment a year to sustain economic growth he said will reach 4 percent this year.
Castro Encounter
Obama will cross paths with Cuban President Raul Castro on Friday when the two leaders attend the Summit of the Americas in Panama City. Obama said Thursday during a visit to Jamaica that the State Department has finished its review of whether the U.S. should remove Cuba from its list of state sponsors of terror, though he didn't say what the agency concluded.
U.S. companies are interested in finding a new market, Pedro Freyre, chairman of Akerman LLP's international practice, said in an interview. Airbnb Inc., an online marketplace for overnight lodging rentals, has said it's expanding into Cuba, taking advantage of the fact that U.S. hotel chains haven't been allowed to invest, according to Bloomberg Intelligence.
"There is a tremendous amount of interest," Freyre said of the prospect of Cuba opening up to U.S. investment. "I can't even begin to share with you the levels of phone calls and the engagement we're seeing in everything we're doing."
While U.S. companies are eager to invest in Cuba, they will compete with businesses from other nations that are also eager and, in some cases, already there, Donohue said.
Investment Projects
"You go to Cuba and the resorts are owned by the Canadians, the Germans and the Spanish and everybody else," Donohue said. "It's an opportunity to participate in a competitive economy. What you're willing to do in investment, what you're willing to do in trade facilitation, what you're willing to do in being a competitive person, that's going to be the way it's going to work."
Canada accounted for 39 percent of the visitors to the island in 2013, according to Bloomberg Intelligence statistics based on the most recent Cuban government data. U.S. visitors to the island represented 3.2 percent, according to the data.
Hotel rooms in Cuba expanded 5.6 percent to 54,627 from 2009 to 2013, according to Bloomberg Intelligence. The number of luxury hotels expanded 38 percent, to 40 in 2013 from 29 four years earlier, according to the data.
Foreign Investment
Cuba has 246 foreign investment projects already, spanning industries including construction, mining and oil, Diaz said. The country is trying to improve the outlook for foreign investors by providing them with "stability and security," he said.
The island nation, located 90 miles from Florida, lacks high-speed Internet service and other modern conveniences after more than 50 years of sanctions that the U.S. imposed after Raul Castro's older brother Fidel assumed power.
"They need the money," Eric Farnsworth, vice president of the Council of the Americas, a business trade group, said in an interview. "They need investment."
As Cuba seeks foreign investment, its credit rating will be hampered because of 5,900 potential financial claims totaling more than $6 billion from people and companies whose property was taken by the Cuban government after the revolution, Moody's said in a report Thursday. The agency rates Cuba's credit Caa2, eight steps below investment grade.
Property Disputes
Disputed property from Europe during World War II is still being litigated without stopping investment there, Donohue said
"You can pick up the newspaper any day and see all the arguments that are still going on from the second World War, artwork and so forth," he said. "I think that's something that will be debated and negotiated at a different level than these fundamental issues."
Obama, in a speech in Jamaica before flying to Panama, said the U.S. will "continue to have differences with the Cuban government."
The summit's agenda is broader than U.S.-Cuba relations. Donohue said he expects conversations there will also advance Trans-Pacific Partnership trade negotiations. He said he's optimistic that Congress this year will approve so-called fast-track authority to give Obama more autonomy to negotiate trade pacts.
While Democrats, backed by labor unions, have opposed the Pacific trade deal and trade promotion authority, Donohue said he expects Obama will be able to get some Democratic votes in favor of the authority.
"He needs it politically and he needs it to shut up anybody in the Senate who thinks they could filibuster," Donohue said.