Can Indonesia's 50 Cent-an-Hour Workers Mimic China's Success?
Chris Brummitt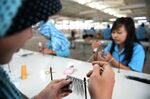 As the sun lowers into the Java Sea, Asep Saefullah and his friends sit by a pond among the rice fields near his village in Indonesia, chatting, smoking clove cigarettes and fishing.
Not for much longer. Work has begun on an industrial park with a power station and water treatment plant that will create as many as 190,000 jobs. It's part of a grander plan to turn this stretch of coastline on the island of Java into an export city, with a container port and a highway to the capital, Jakarta.
This is Indonesia's shot at recreating the success of Shenzhen, the marshy village in southern China that became the heart of that nation's industrial expansion in the late 1990s. Now China is too expensive for many factories, and industries that poured money into cities from Shenzhen to Shanghai for two decades are looking for somewhere with lower costs and lots of cheap workers.
"The great China boom was really bad for the Southeast Asia economies," said Tim Condon, the Singapore-based head of Asia research at ING Groep NV. "With the China slowdown, all that moves in reverse. Southeast Asia's manufacturing sector is the big winner, as it was in the early 90s."
Beauty Contest
That's created a beauty contest among Southeast Asian low-income nations looking to lure investment, including Vietnam with its high-technology parks and the Philippines with its young population and English-language skills. Indonesia's trump cards are the region's biggest economy and some of its lowest wages.
Workers in Central Java, the province of 30 million people where Saefullah is fishing, earn as little as 50 cents an hour - - less than $100 a month. In the industrial area around Jakarta, they get almost twice that. In Vietnam the minimum monthly wage is $146, while it's about $200 in the Philippines and $240 in Malaysia.
The race to get a slice of China's manufacturing is part of Indonesian President Joko "Jokowi" Widodo's effort to wean his country off a dependence on exports of minerals and palm oil.
Mining Boom
In 2001, at the start of the China-driven boom in energy and mining, Indonesia received 52 percent of its export revenue from commodities and about 20 percent from manufactured goods, according to data compiled by Bloomberg. A decade later, commodities accounted for 68 percent, while manufacturing had slid to about 14 percent.
China's economic growth slowed after that, hitting countries like Indonesia and Australia that had ridden the resources boom. Yet Indonesian factories have struggled to make up for the downturn because of bureaucracy, corruption and poor infrastructure.
Those drawbacks make the Shenzhen model attractive: create a special zone with its own port, power and facilities and streamline approvals for investors. Countries across Southeast Asia have adopted the strategy, with special economic enclaves and free trade zones popping up from Laos to East Timor.
Java's Millions
Indonesia has at least eight, but most are outside Java, the island that has about half of Indonesia's 250 million people.
Around Saefullah's fishpond, Singapore government-linked Sembcorp Development Ltd. and Indonesian developer PT Kawasan Industri Jababeka have begun clearing ground on their 2,700-hectare (6,672-acre) industrial park. Sembcorp has constructed a three-story office and show factory at the site and is marketing the project to global investors.
Further down the coast in Semarang, the nearest city, workers are busy expanding the former Dutch-colonial port, lengthening the wharf and increasing storage capacity in what is now the country's fourth-largest container terminal. Others are laying a railway that will link the port to Java's rail network. Construction of a toll road to Jakarta is under way.
Footwear and Furniture
The investments are already beginning to show. Central Java's exports of textiles, footwear, furniture and other goods have risen 46 percent over the last four years, according to the local investment board.
At Amir Sudjono's false-eyelash plant in Purwokerto, a town of about 250,000 people in the south of the province, rows of female workers in leggings and Islamic head scarves sit knotting, threading and snipping, to the sound of a radio playing local pop music.
The industry employs about 30,000 people in the region, turning sweepings from barbershop floors and imported synthetic hair into beauty aids for consumers around the world.
In this labor-intensive business, wages account for about 80 percent of Sudjono's production costs, but Chinese eyelash makers still manage to sell cheaper.
"Productivity there is still a lot higher," said Sudjono, who opened PT Bio Takara's first factory eight years ago after studying in the U.S. and China and now exports to 21 countries. "We're banking on China getting more expensive."
China's Wages
Minimum wages across China rose an average of 14 percent in 2014, with workers in Shenzhen now getting $292 a month, according to China's Ministry of Human Resources and Social Security.
While that's encouraged some production to move offshore, the concentration of manufacturing that grew along China's coast in the past two decades is unlikely to be reproduced in a single country.
"Twenty years ago, multinational companies would choose the cheapest location and ship the stuff back," said Kelvin Teo, chief executive officer of Sembcorp's urban development business in Singapore. "Now the trend is different because of high logistic costs. They want to house their manufacturing sites near to domestic markets."
Size Advantage
That gives Indonesia a size advantage over its Southeast Asian rivals. The country is one of the largest single-currency markets in the world by population, after China, India, the U.S. and the euro zone.
Balanced against that, the country has some of the worst infrastructure and bureaucracy in the region. Indonesia ranked 114th out of 189 in the World Bank's 2015 ease of doing business survey, almost 100 places behind Malaysia and more than 30 below Vietnam.
"So many problems: shipping, materials, different regulations, different laws," said South Korean Lee Keum Dae, who moved his jewelry factory to Central Java from China three years ago because he could no longer get workers. "Many people want to move here. It's not that easy."
Jakarta Lure
The nation has suffered from a concentration of industrial investment around the capital, which has distorted labor costs, said Gustav Papanek, an economist at Boston University who has studied Indonesia for decades and is a member of a think tank that discusses economic policy with the government.
"Indonesia has become a high-cost economy, particularly in the labor-intensive industries, which are precisely the ones it needs to create jobs," said Papanek by phone. Wages in Jakarta "have jumped ahead of other countries. It's a huge, huge job that the government has to do."
Furniture Exporter
Jokowi, a furniture exporter based in Central Java before he entered politics, has pledged to simplify permits, upgrade ports and roads, and curb corruption in the government. He's set a 7 percent goal for gross domestic product growth by the end of his term in 2019, up from last year's 5 percent.
To do so, he will need to follow the industrial success of economies in North Asia, such as South Korea, which was cited by Finance Minister Bambang Brodjonegoro as a country to emulate in an interview in August.
Like Japan before it and China afterward, South Korea developed labor-intensive industries like wigs, textiles and shoes before moving up the value chain as wages increased.
Replicating that strategy is harder now that the world economy has become more integrated and trade rules curb protectionist policies and subsidies, said Il Sakong, South Korea's finance minister from 1987 to 1988.
Borderless Economy
"In this borderless economy, firms will locate wherever they find the best environment for doing business," said Il, head of Seoul-based research group Institute for Global Economics.
Indonesia's manufacturing aspirations are also hampered by the nation's mineral deposits. Like Australia, Brazil and other resource-rich countries, efforts to lure investment into factories tend to unravel each time another mining boom comes around and investors can get better returns from what's in the ground.
Indonesia is the world's largest exporter of power-station coal and a major source of gold, copper, tin and natural gas. To help break the dependence on sales of ore and energy, the government in 2014 banned the export of unrefined ores in an attempt to get metals companies to build smelters in the country.
Resources Slowdown
As a result of this and slowing demand in China, Indonesia's mining revenue has fallen, dragging exports down 16 percent in February from a year earlier, the biggest drop since 2012, according to government data.
As dusk falls over the pond where Saefullah is fishing, he counts the 11 fish in his plastic bucket and prepares to go home. The 30-year-old, who has his own business selling cakes door-to-door, says he knows about the plans for an industrial park but won't be applying for work there.
"Better to be your own boss than a coolie," he said.
Indonesia's Growth Slows on Exports in Challenge to Widodo Dangerous Inequality Spurs Widodo Push for Indonesia Shakeup Indonesia Tops Southeast Asia Luring New Factories, Survey Shows Widodo's Next Hurdle: What Indonesia Can Tackle Post Fuel Revamp
Before it's here, it's on the Bloomberg Terminal.
LEARN MORE