How the Drought Is Changing California Forever
James Nash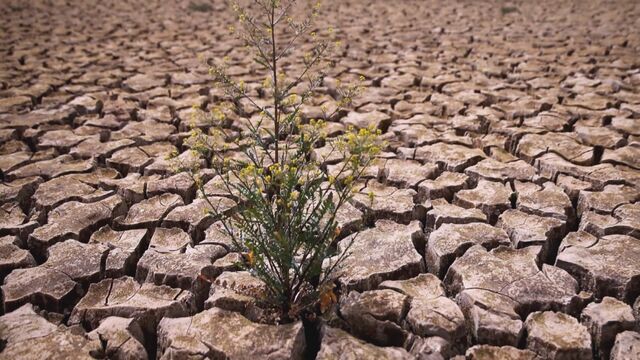 Cambria, a seaside hamlet of vacation homes and wine bars, offers a glimpse of how far Californians must go to conserve water as the most populous U.S. state struggles through the worst drought in its history.
Residents take pails into the shower to capture runoff, then empty them into toilet tanks. Others rarely flush. Once-verdant lawns have yellowed.
Residents in this community of 6,000 midway between San Francisco and Los Angeles now use 32 gallons (121 liters) a day on average, less than half than before the drought began in 2011.
"These are practices that Cambrians are really internalizing as habit, and will continue after the emergency is lifted," said Gail Robinette, the president of the Cambria Community Services District board, which rations water from two creeks. "If we keep this front and center, most people in California will change their habits. Some people will just keep doing things as they are and their communities will need to deal with them."
In a handful of drought-plagued communities, including Cambria, East Porterville and Santa Cruz, scarcity has forced changes. Residents in East Porterville, in the San Joaquin Valley, use temporary showers in a church. In the tourist destination of Santa Cruz, people postpone car washes and limit showers to five minutes. The communities face especially strict limits because they aren't part of the State Water Project, a system of canals and reservoirs that delivers mountain runoff to urban areas in the Bay Area and Southern California.
Severe Drought
Apart from communities in severe drought, pleas by Democratic Governor Jerry Brown and others appear to have swayed few Californians.
Statewide, residents used 77 gallons per person per day in February, the State Water Resources Control Board reported, down just 2.8 percent compared with the same month a year earlier. Chairwoman Felicia Marcus called the number "very disturbing" and expressed hope that Brown's April 1 mandatory conservation order would bring the average down.
Brown's executive order provides for $10,000-a-day penalties against water agencies that fail to reduce use 25 percent.
Emergency Declaration
His actions add teeth to a January 2014 declaration of a drought emergency that called on residents to voluntarily reduce use 20 percent.
Cambria residents have been under mandatory restrictions since March 2014. They can't wash cars or sidewalks with potable water, nor can they to irrigate lawns or gardens. Residents are capped at 50 gallons per person per day, and allocations exceeding that are billed at five times the amount.
The Cambria Community Services District fast-tracked a $10 million plant to purify groundwater, wastewater and brine from a lagoon and replenish aquifers.
Banners downtown remind people to conserve. Pickups with tanks queue to purchase nonpotable water from ranchers for $3 per 100 gallons. Restaurants use single-use plastic cups to avoid washing them.
"We are a success story," said Taylor Hilden, 69, a retired real-estate broker who helped get the banners installed downtown. "We are unique, though, as a community. We have such enormous support, the wind-beneath-your-wings thing."
Cambrians may be getting the message more than residents of urban areas, even though freeway signs urge people in Los Angeles and San Francisco to conserve.
In San Francisco, California's most densely populated big city, with small lawns and coastal fog, residents consumed 44 gallons per day in February, while residents of Palm Springs and neighboring desert communities used more than six times as much.
'Slightly Different'
"Every part of the state is slightly different," said Frances Spivy-Weber, vice chairwoman of the State Water Resources Control Board, who lives in coastal Los Angeles County. "Inland is hotter, and the central coast doesn't have access to the State Water Project. There is no one-size-fits-all for water use here."
Depending on the location and season, 40 to 70 percent of Californians' water goes toward lawns, gardens, landscaping and pools, said Deven Upadhyay, resource manager for the Metropolitan Water District of Southern California. Decades of population growth and dry spells have led to improvements such as low-flow showerheads and more efficient appliances, yet the suburban ideal of a carpet of green grass has persisted, Upadhyay said.
"The new low-hanging fruit is outdoor water use," he said. "It is going to be harder to get these additional gains, but we know where they're going to come from."
Cutting Use
Cambria residents have been able to cut use without damaging their quality of life or jeopardizing the town's tourist-based economy, said Mary Webb, 60, a retired database manager. Most savings are as simple as using shower water and trucked non-potable water to irrigate plants and lawns, she said.
"Fifty gallons per day allows people to wash and cook and do all the things they need to do in their lives just fine," said Stephanie Pincetl, director of the California Center for Sustainable Communities at the University of California at Los Angeles. "It really goes to a different kind of question, which is a change in how the outdoor landscapes look and feel in cities. It's more a question of aesthetics than physical hardship."