Blankfein's Bet on Goldman Sachs Bond Trading Seen Reaping Gains
Michael J. Moore and Dakin Campbell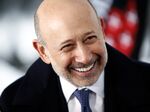 Lloyd Blankfein didn't change course as revenue from trading debt, commodities and currencies at Goldman Sachs Group Inc. fell more than 50 percent over the past five years. Now it's time for that patience to start paying off.
The bank Blankfein leads may report a 7 percent increase in first-quarter fixed-income revenue as volatility in interest-rates and currency markets prompted more trading, according to the average of five analysts' estimates compiled by Bloomberg. Three big U.S. competitors are seen posting declines, the estimates show. That would give New York-based Goldman Sachs its largest share of fixed-income revenue in four years.
While banks including Morgan Stanley scaled back, Chief Executive Officer Blankfein stuck with businesses such as commodities trading and maintained that fixed-income revenue will bounce back. President Gary Cohn said in May that Goldman Sachs was gaining share from other firms, even if it wasn't showing up in revenue totals.
"This is the quarter to really test that theory out and see: Has their commitment to the business paid off?" said Brian Kleinhanzl, an analyst at Keefe, Bruyette & Woods in New York.
Fixed-income trading revenue, which has fallen across the industry in four of the past five years, may drive a wedge between the largest U.S. banks when they report first-quarter earnings starting April 14. While JPMorgan Chase & Co. is expected to join Goldman Sachs in posting a jump in revenue, analysts estimate that Bank of America Corp., Citigroup Inc. and Morgan Stanley will show declines from a year earlier.
Diverging Actions
The combined earnings of the six largest U.S. banks probably will rise 26 percent to $21.8 billion as legal costs fall, according to analysts' estimates compiled by Bloomberg. Lending businesses may post tepid growth as firms continue to wait on the Federal Reserve to raise interest rates.
Trading in interest-rate and currency markets picked up in the first three months of the year as central banks were poised to take diverging actions. The Fed is expected to begin raising rates later this year after the European Central Bank started a quantitative easing program and the Swiss National Bank surprised the market by abandoning its currency peg.
The U.S. Dollar Index, which tracks the currency against major peers, rose 9 percent in the first quarter, the biggest gain since 2008. Commodities trading also may benefit as volatility in gold and energy markets increased more than 50 percent from last year's first quarter, according to Goldman Sachs analysts.
"Macro products like interest rates and FX should be relatively strong as market price trends and some central bank policy surprises drove increased volume, volatility and hedging activities," Jeff Harte, an analyst at Sandler O'Neill & Partners LP, wrote in a March 25 note.
JPMorgan, Citigroup
Goldman Sachs and JPMorgan are among the biggest traders of macro products, which often are tied to monetary policy. Bank of America and Morgan Stanley get a greater portion of fixed-income revenue than peers from credit products such as corporate bonds, an area that had a weaker quarter than macro, analysts said.
While Citigroup also is a big trader of macro products, most analysts estimate the bank will report a drop of at least 5 percent after Chief Financial Officer John Gerspach said March 2 that a loss on the Swiss franc would contribute to a decline in trading revenue. Still, KBW's Kleinhanzl said Citigroup, which ranked second in fixed-income revenue last year and hasn't made large cuts to the business, may surprise investors with positive results after trading picked up in March.
Revenue Drop
Fixed-income trading revenue at Goldman Sachs has dropped by more than half from its Wall Street-record $21.9 billion in 2009, and the bank ceded the top spot to JPMorgan. Revenue from the business, which is overseen by trading heads Isabelle Ealet, Pablo Salame and Ashok Varadhan, made up 25 percent of Goldman Sachs's total in 2014, down from 48 percent in 2009. That's still the largest share of any of the firm's units.
The bank probably will report on April 16 that quarterly fixed-income trading revenue surpassed $3 billion for the first time in two years, according to analysts' estimates. It may post adjusted earnings per share that rose 5 percent to $4.21, the estimates show. Michael DuVally, a Goldman Sachs spokesman, declined to comment.
Gains in investment banking and asset management and return on equity topping that of most competitors have alleviated pressure on Goldman Sachs to restructure its fixed-income unit.
The bank has cut 10 percent of its employees in the business since 2010 and reduced capital the unit needs by $8.5 billion since the middle of 2012, Cohn said in a presentation to investors in May. Still, that's a smaller reduction than made by firms such as Morgan Stanley or UBS Group AG.
Losing Share
Deutsche Bank AG, the largest European bank in fixed-income trading, has said it's committed to remaining a top competitor even as it cuts back in commodities and credit-default-swaps trading. Barclays Plc and UBS have lost share as they acted on plans to reduce the portion of assets that trading represents.
Goldman Sachs executives have said they were right in resisting calls to curtail businesses such as commodities trading, which rebounded in 2014 after several years of revenue declines. The bank took the top spot in commodities last year as JPMorgan and Morgan Stanley sold units, according to industry analytics firm Coalition Ltd.
Even if the first quarter brings more confidence that the Goldman Sachs's strategy is paying off, Kleinhanzl said he wouldn't declare victory just yet.
"You'd probably need a couple quarters of better-than-expected trading results," he said. "It remains to be seen whether the momentum can continue. We expect it will, but we've seen it dry up before."
Before it's here, it's on the Bloomberg Terminal.
LEARN MORE