Hear the Movies You Can't See
With the Black List podcast, Franklin Leonard brings Hollywood's best unproduced scripts to life
By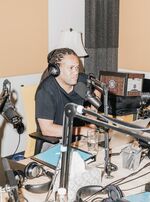 Malcolm Spellman and Tim Talbott, a screenwriting duo known as the Robotard 8000, sit on canary-yellow chairs in a Hollywood studio discussing their darker days. "Both of us were dead," Spellman says. Back in 2008, after a few decent years in the industry, work had dried up. "Our reaction was to flex our s--- to the max," recalls Spellman, now a writer on Empire, the hit Fox TV show. The two friends are being interviewed by Franklin Leonard, host of a new weekly podcast, The Black List Table Reads, which features dramatic readings of Hollywood's best unproduced screenplays. Leonard, who's become a patron saint for movie writers over the past decade, is partly responsible for reviving the Robotard 8000.
Film development executives are always searching for new material, but it's tough to trust unvetted talent with multimillion-dollar projects or gauge the potential of more offbeat stories. So in 2005, Leonard started his Annual Black List, which highlights the year's best-liked unproduced scripts, as nominated by more than 300 industry insiders. "We're just as interested in identifying scripts that are tiny but well-written as we are in box office material," he says. Sometimes his discoveries are both: Ben Affleck found the script for Argo on the list; it went on to win the Oscar for Best Picture.
At first, Leonard's hobby occupied him for three weeks each December. Now he's made it a business that employs five people. In addition to the survey, which earns nothing, he's introduced blcklst.com to connect screenwriters with and without agents to producers looking to make films. Writers pay $25 a month to have a script hosted and $50 for a professional evaluation. (Leonard's company keeps half; the rest goes to the evaluators.) So far, more than 20,000 scripts have been uploaded.

"It used to be a closed-loop system where, if you didn't have an agent, you were pretty much screwed, because nobody would read your material," says Scott Myers, author of the screenwriting blog Go Into the Story. "Franklin's created an alternate to the old, very narrow, confined way of getting in." Studios such as Warner Bros. and Walt Disney have hired writers directly from blcklst.com, and a few scripts written by nobodies have made it from the all-access site onto the exclusive Annual Black List.
The podcast, which will come out on April 16, is an attempt to get nonindustry fans involved long before a script gets bought, filmed, and distributed to megaplexes. It should appeal to the same people who, while they may not work in Tinseltown, love movies enough to follow trade websites such as Deadline and the Hollywood Reporter, both of which revere the Annual Black List as if it's a sacred document. The podcast is being co-produced by Midroll Media, a podcast company that works with hosts including Marc Maron, Neil deGrasse Tyson, and Paul Scheer, who runs Wolfpop, an entertainment-focused network.
Each month, Leonard will choose a script and Scheer will help supply actors from his Wolfpop entourage, including maybe-familiar voices like Lauren Lapkus, Jason Mantzoukas, and other actors who've appeared on Orange Is the New Black, Parks and Recreation, and other shows. Featured writers will keep full rights to their scripts while making 50 percent of any ad revenue earned from the podcast. "If their episodes are popular, they may get a massive windfall," Leonard says. He also sells $25 tickets for live readings of some Black List scripts.
The Robotard 8000 screenplay Balls Out will be the first one featured. The profanity-laced comedy centers on insurance salesman Jim Simmers, who, after a near-death experience, finds out there's no afterlife. He goes on a screw-the-world rampage to get a promotion, a new car, and the hot girl at work. It was an obvious choice, Leonard says: "It's very much a male-driven comedy and simultaneously a brilliant satire of one."
When Talbott and Spellman finished Balls Out in 2009, their agents refused to send it out, deeming it too gross. "My manager was like, 'I would have to get special permission from the head of the company to be able to put our covers on a script this foul,' " Talbott recalls. At a friend's suggestion, the duo created a rudimentary website that "looked like it had been built by a retarded robot"—hence the name—and posted the script online. Some movie executives found it and began passing it around. Within about nine months, Balls Out had enough support to land it on the Annual Black List. Since then, it's been optioned by a production company but not yet filmed. Talbott and Spellman are psyched enough that it's going live as a podcast. "Anytime you're affiliated with the Black List it's a good thing," Spellman says. But, he adds, "until very recently, I thought podcasts were for nerds."
He's not incorrect. Radio dramas have been around since the 1920s. They were popular entertainment in the 1940s, then died off when color TV took off in the '50s. Now audio entertainment is making a comeback, fueled by the proliferation of podcasts such as NPR's Serial, which set an iTunes record last year when it was quickly downloaded more than 5 million times. About 17 percent of Americans listen to podcasts each month, up from 9 percent in 2008, according to Edison Research. The average listener tunes in to six each week.
Several podcasting companies have popped up, including Slate's Panoply, Gimlet Media, and Midroll. On each, advertisers generally pay from $15 to $25 per 1,000 downloads. That's more than three times as much as for many radio ads, largely because podcast blurbs, most of which are read or ad-libbed by hosts, are invasively effective. "People are really engaged with the content and the host," says Adam Sachs, chief executive officer of Midroll. He's found that 63 percent of people bought something after hearing it advertised on a podcast.
"I'd be lying if I said I wasn't incredibly nervous about doing the podcast," Leonard, 36, admits. Before this, he's always been behind-the-scenes. After graduating from Harvard in 2000, he worked on a congressional campaign in Ohio, then as a McKinsey consultant in New York. When his entire analyst class was let go in 2002, he had five months of severance pay and lots of free time. One night in February 2003 he watched three of his favorite films—Being There, Amadeus, and Dr. Strangelove—then spontaneously booked a ticket to Los Angeles. "I realized I was spending all my time either reading about the film industry or watching movies," he says. The same week he landed in L.A., he interviewed with a talent agent at Creative Artists Agency and was hired as an assistant.

His list was born two years later as he grew frustrated reading piles of mediocre scripts. Looking to access better material, Leonard anonymously queried 75 colleagues and asked them to send their favorite screenplays. He compiled the replies, then sent out the resulting list, calling it the Black List. The name is a nod to Hollywood writers who were barred from working during the McCarthy era and an inversion of assumptions about race. "It's a black list people want to be on," Leonard says. A week after sending out the e-mail, he returned from vacation and found his list had been forwarded back to him more than 50 times, like a viral chain letter, by people oblivious he'd created it.
The Annual Black List still works the same way, though more experts are queried and everyone in Hollywood knows Leonard is in charge. Since its inception, 987 scripts have made the list, of which 295 have been filmed, including The Imitation Game and other hits such as Slumdog Millionaire and The King's Speech. Those produced have collectively received 223 Oscar nominations and 43 wins. Leonard's company doesn't take a cut when a movie gets made. "We don't want to insert ourselves where we aren't adding any value," he says.
The aim, Leonard says, is to ensure more good scripts get attention. In mid-March, during the taping of Balls Out, he follows along on his MacBook, trying to stifle his laughter so it doesn't end up on the recording. After the session ends, Leonard lets out a sigh of relief. "I think that went well," he says. "I'm excited by the medium, because it doesn't require $100 million to make." One day, he adds, the Black List may expand into the business of actually making films. "But for right now, I can contribute more to great movies getting made this way."
As for the Robotard 8000? The duo is working on a sequel to Balls Out. Spoiler alert: Islamic State terrorists take control of Cape Cod.
Before it's here, it's on the Bloomberg Terminal.
LEARN MORE