Banks Alarmist Over Brexit Threat, Former Chancellor Lamont Says
Tom Beardsworth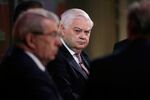 Banks are being "alarmist" about the possibility that Britain could exit the European Union and most companies in the finance industry are sanguine, according to former U.K. Chancellor of the Exchequer Norman Lamont.
"Business sometimes exaggerates or has the wrong idea about the importance of politics to markets," the upper-house lawmaker said in a television panel discussion at Bloomberg's European headquarters in London Thursday. "In many ways Europe is making us less competitive" and leaving the EU if a renegotiation is unsatisfactory shouldn't be unthinkable, he said.
With four weeks to the general election, Britain's future in the EU is a key battleground. Prime Minister David Cameron, who was an adviser to Lamont in the early 1990s, has pledged to win better terms for Britain and then hold a referendum on whether the U.K. should stay or leave by the end of 2017. Labour leader Ed Miliband has ruled one out as he seek to win the support of business leaders concerned about his plans to increase taxes on the wealthy and cap energy prices.
Roger Carr, chairman of BAE Systems Plc, said that while the EU should be reformed, "membership facilitates easier trade and therefore easier growth." Carr spoke alongside John Mills, a Labour Party donor who founded household goods manufacturer JML, and Roland Rudd, chairman of financial public-relations firm Finsbury and head of the Business for New Europe campaign group.
Shut Out
"There's no such thing as a happy divorce" and U.K. exporters risk being shut out of European markets by tariffs and regulatory barriers, Rudd said. A "marvelous exit" is "not possible, never going to happen, it will be acrimonious," he said.
Miliband has said a Labour government would only hold a referendum if treaty changes transfer further powers to the EU. On Tuesday one of his predecessors, former Prime Minister Tony Blair, praised his "brave" choice "not to yield to pressure but instead to make the principled and intelligent case for Britain in Europe."
Labour sees opposing the Tory promise of a referendum as one of its strongest economic appeals. It was the focus of the party's business manifesto, published last month. The two main parties are running neck-and-neck in the polls, with neither on course to win the majority of parliamentary seats required to govern alone.
On Wednesday, Moody's Investors Service said that while uncertainty over the election outcome isn't affecting Britain's credit profile, an increased likelihood of leaving the EU "could result in negative rating pressures over the medium term."
Before it's here, it's on the Bloomberg Terminal.
LEARN MORE