Ahead of Expected Campaign Announcement, Rubio Super-PAC Launches
A conservative campaign veteran will head up Conservative Solutions PAC.
By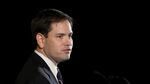 Marco Rubio's previously rumored super-political action committee got a name and a leader Thursday, one who was closely aligned with the family of his potential rival for the Republican presidential nomination, former Florida Governor Jeb Bush.
The super-PAC, to support Rubio's potential presidential run, is called Conservative Solutions, and will be headed by Warren Tompkins. A strategist from the key Republican primary state of South Carolina, Tompkins is a veteran of presidential campaigns,  including those of  George W. Bush and George H.W. Bush. 
The committee, Conservative Solutions, was originally formed in 2013, according to Federal Election Commission filings, but was relatively inactive, save for one major donation from Gregory Maffei, of Liberty Media. 
New organization papers were filed in February, and as of today's release, the organization has rallied behind Rubio. 
"Support for Marco's positive conservative vision and his potential presidential run is growing every day, and I'm honored to help in that effort," Tompkins said in the release.  
The Florida Republican is expected to announce his presidential candidacy on Monday in Miami.  
Super-PACs operate independently from candidates, but can exert influence with advertising spending. Official campaigns and super-PACs are not allowed to coordinate activities. 
Kathy Kiely contributed to this report.