Wall Street's Best Golfer Trades Amateur Title for Fund Trophies
Dex McLuskey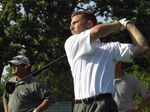 Trip Kuehne was known for his first 11 years in money management as the best golfer on Wall Street. While proud of the moniker, he also wants to move past it.
Kuehne, 42, stopped playing elite-level amateur golf after he won the 2007 U.S. Mid-Amateur, a United States Golf Association event targeted at post-college players. The Oklahoma State University psychology major gave up all competitive golf after playing in his second Masters Tournament the next year.
His focus flipped to price spikes from golf spikes as Double Eagle Capital, which he began in the summer of 2005 with $6 million in client money, began to grow. He now manages about $240 million for investors including Kyle Bass, whom Kuehne has known since he joined White Rock Capital Partners in Dallas in May 1997, three days after earning his MBA from OSU.
"Trip's found a niche that works really well," Bass, 45, said in a phone interview. "He's got a network of high net-worth individuals who can't necessarily meet $5 million minimums for individual hedge funds. Trip gives them the capacity to take $1 million or whatever and diversify it among four or five funds that are otherwise closed to individual investors."
Bass hired Kuehne at Legg Mason Inc. in September 2001 and left in 2005 to begin his own hedge fund, Hayman Capital Management LP. Bass made a fortune betting against sub-prime mortgages in 2007 by predicting that U.S. home prices would tumble for the first time since the Great Depression.
Trophy Chase
Kuehne looks after money for about 90 or so clients, including Dallas Cowboys players and other athletes he declined to identify. Ditching the golf clubs hasn't diminished his competitiveness.
"I've got a trophy over there that says we're the best in the fund-of-funds business over a three-year period through 2009," Kuehne said in an interview at his Irving, Texas, office. "I want a stack of them."
Run by hand-picked money managers from firms including Paul Tudor Jones's Tudor Investment Corp., Louis Bacon's Moore Capital Management LP and David Tepper's Appaloosa Management LP, Double Eagle's $178 million Ace Fund generated a compounded annual rate of return of more than 10 percent from its inception in August 2005 through February, compared with an annual return of 8.2 percent for the S&P 500 in the same period.
Two clients have trusted Kuehne, who played in four U.S. Opens, with "north of $25 million each," while the average buy-in is about $2.5 million, Kuehne said.
About 41 percent of the fund is invested in sovereign debt, currencies and commodities, with another 39 percent in U.S. and international equities.
Rate Increase
Kuehne in September expects the first interest-rate increase by the U.S. Federal Reserve since June 29, 2006, which he's betting will hurt U.S. equities while boosting U.S. Treasuries and the dollar.
"The best opportunities in equities are probably in the European and Japanese markets," he said. "Every country in Europe, except Greece, has lower yields than the U.S."
The dollar has soared 19 percent since July 1 against a basket of 10 leading currencies tracked by the Bloomberg Dollar Spot Index, while the yield on U.S. 10-year bonds is 1.9 percent, compared with 0.44 percent for French, 0.34 percent for Japanese, 0.16 percent for German and -0.1 percent for Swiss government debt with the same maturities.
Distressed for Success
In the second quarter, Kuehne said he plans to add emerging market securities to the distressed debt and stocks of companies that have reorganized financially in his $30 million Opportunity Fund, which produced a compounded annual rate of return of almost 37 percent since it began in September 2006. He's working on improving the 3.9 percent return of the $35 million Medalist Fund, a long and short equity vehicle begun in April 2011. He'll get there, Bass said.
"Once he decides that he wants to excel, he has a constancy of purpose, that inner will to succeed that you can't teach, and he's got the drive to make it happen," he said.
An indicator of that resolve came after the final of the 1994 U.S. Amateur, which Kuehne lost by one hole to Woods after leading by six holes. Kuehne then had to watch as his brother, Hank, took the title four years later and his sister, Kelli, won the U.S. Women's Amateur in 1995 and 1996. It wasn't until 2007 that Kuehne joined them as a USGA champion.
"I really wanted to win a USGA event," Kuehne said.
The Kuehnes remain the only trio from the same family to win USGA titles and are "probably the most successful family in amateur golf history of the U.S.," said Hank Haney, Kuehne's coach from the age of 15 all through his amateur career.
Woods's Coach
Haney stepped down as Tiger Woods's coach in May 2010 after six years, during which he helped the then world No. 1 to win six major tournaments and 31 PGA Tour titles. In the five years since they split, Woods has slumped to a career-low 111th in the world, hasn't added to his tally of 14 major titles and has won eight more times. Woods tomorrow returns from a two-month hiatus in a bid to win the Masters for the first time in a decade.
Kuehne's golfing chops include being the low-scoring amateur at the 2003 U.S. Open and playing on three Walker Cup teams, including the 2007 squad that beat Great Britain and Ireland on the road. He was also on the three-man U.S. roster that finished third at the 72-nation Eisenhower Trophy in 2006, the world amateur championship.
He's had a hole-in-one seven times -- five of them on Friday the 13th.
"It's one of the weirdest sporting stats you'll ever hear," Bass said.
Lucky 13
The number 13 has followed Kuehne. In the 2003 U.S. Open, he had a 67 in the second round -- on Friday, June 13 -- one shot outside the record low score for an amateur. And at the 2008 Masters -- 13 years after his first appearance -- he got his only eagle at the 13th hole during the second round. It was also a 13-year gap between losing the U.S. Amateur final to Woods and winning the Mid-Amateur.
Even though he ranked first at the 2003 U.S. Open with a driving average of 326 yards -- and smashed his final drive 396 yards -- Kuehne made the right choice not to try making a career on the U.S. PGA Tour, said Haney.
"The only player I ever taught who struck the ball better than Trip Kuehne was Tiger Woods," Haney said in a phone interview. "But being the best ball striker isn't enough. Trip didn't have the knack of getting the best score because his short game was not the greatest and he was nowhere near a tour-level putter. He made a smart call to do what he's doing."
Finance Career
Kuehne agreed with Haney's assessment of his game, so rather than join his brother and sister in the pro ranks, he pursued his interest in finance, which began 32 years ago when he visited the New York Stock Exchange.
"I always wanted to work on Wall Street," Kuehne said. "Who knows what I would have done on the PGA Tour, but I've got a great business and I don't have to worry about making a six-foot putt to put food on the table."
While Kuehne was a naturally fast and powerful athlete and worked to hone his technique and timing, Haney said credit also goes to his parents. Pam and Ernie, a lawyer, would drive their children from the north Dallas neighborhood of Highland Park 35 miles (56 kilometers) to Haney's school at Stonebridge Ranch in McKinney every Saturday and Sunday for lessons. They lived at the complex in summers, Kuehne said.
"They dedicated their whole lives to those kids," Haney said. "They gave them every opportunity to succeed."
The example isn't lost on Kuehne, who now spends his spare time working with his 15-year-old son on his football career -- Will Kuehne played quarterback for the under-15 U.S. national team against Canada in January's International Bowl.
Plus 1.6
Even though he's only practiced once since October, Kuehne reckons his handicap is about plus 1.6, meaning he has to add 1.6 strokes to his score after a round. At his peak, he played to about plus 7.6, and said he still has golfing ambitions and maybe one regret.
"I'd love to play in a Senior Open and a Senior U.S. Amateur," he said. "If I could have done one thing differently, I'd have tried to qualify for the British Open. I'd have loved to have played in a British Open."
Before it's here, it's on the Bloomberg Terminal.
LEARN MORE