The Next Act for the 'Netflix of Books' Is Basically a Bookstore
Oyster's decision to start selling e-books comes from the recognition that some big publishers just won't participate in a subscription model
by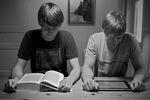 Oyster was founded on a novel principle: One day, instead of buying e-books, people would join a service that would provide any title they wanted for a monthly fee. A year and a half after launching such a service, the New York-based startup has decided that people are going to keep buying books after all. On Wednesday the company moved to add an e-bookstore to its subscription service, allowing customers to purchase single books that aren't available in its lending library.
In one sense, the move is an admission of defeat. Oyster and competitors such as Scribd and Amazon's Kindle Unlimited have been steadily expanding their offerings. Oyster even gained access to the Harry Potter series earlier this year. But publishers simply aren't willing to give the subscription e-book services enough of the good stuff. Oyster currently offers none of the top 10 New York Times fiction best-sellers and only two of the top 10 nonfiction titles (American Sniper by Chris Kyle, and The Six Wives of Henry VIII by Alison Weir). Its competitors aren't doing any better. 
The inability to offer the most popular books is likely to limit the utility of services aiming to be the "Netflix of books," since it takes mainstream titles to draw mainstream audiences. And no one in the nascent e-book subscription industry is giving any clear indication of subscriber numbers, preferring to cite useless metrics like "total pages read per month." Both Oyster and Scribd have convinced venture capitalists that they're on the right track; the companies have raised $14 million and $22 million, respectively.
Those war chests are pretty paltry in comparison with Amazon, which brought in $244 million per day in revenue last year while also offering both a la carte and subscription reading services. So what makes Oyster think it can loosen Jeff Bezos's grip on the e-reading public? There are several shifts taking place. Kindle readers have traditionally been locked into Amazon's store because other retail options weren't available on the e-readers. But more reading is taking place on smartphones and tablets, where Amazon has less of a built-in edge. Publishers are also moving back toward agency pricing for e-books. By setting their own prices, publishers reduce the power Amazon has to undercut competitors by selling books at heavy discounts.
Startups like Oyster and Scribd believe they can compete by offering better-designed apps and shopping websites. Oyster Chief Executive Officer Eric Stromberg likens his service to the digital version of indie bookstores. "You know the difference between a warehouse and a bookstore," he says. "If you try to describe both, you say, 'Each has this many books, and I can go and get books from each,' right? But if you actually walk through both, it's very clear what the differences are."
Still, the idea that anyone could put much of a dent in Amazon's digital book selling empire seems far-fetched. While basic information about market share in the e-book industry is kept secret, it's clear to everyone that Amazon dominates the field. Publishers would love to cultivate a counterweight of some sort but haven't yet managed to do so. Apple and Barnes & Noble are the other competitors of any size, and there has never been a digital equivalent of a real indie bookstore scene.
Scribd has offered books for sale alongside its subscription service for several years, but it consciously steers readers away from the option. "Having experience offering both models to our readers, Scribd users clearly prefer the subscription model," Trip Adler, the company's CEO, said in an e-mail. Scribd also hasn't been able to strike a deal to sell books published by Hachette. Oyster says it will offer the entire catalogs of all of the big five publishers, as well as those of the next-five-largest ones. Unlike Scribd, it will actively promote its retail store.
Oyster's plan to sell books has also let it forge relationships with Hachette and Penguin Random House, the two major publishers that have held out including any titles in the subscription service. But neither company wants to give the impression that this is the first step toward joining Oyster's service. "We have talked to many entrepreneurs about their proposed business models, but we have no immediate expectations or plans to enter into any extended, encompassing content-subscription relationships," says Penguin Random House spokesman Stuart Applebaum.
Oyster thinks this is just fine. Willem van Lancker, the company's co-founder and chief product officer, draws a comparison to online video: Many people with Netflix accounts also pay to download movies from iTunes. There's rarely a clear path forward for media industries lurching toward the Internet. "There are so many stakeholders and constituents," he says. "You have the artists, you have the labels or the publishers, you have the retail channels, and then you have the consumers. The evolution is often kind of messy." 
Before it's here, it's on the Bloomberg Terminal.
LEARN MORE