Samson, United Records Sought in Probe of Port Authority
David Voreacos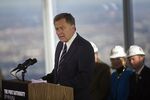 The Port Authority of New York & New Jersey disclosed a wide array of records sought by U.S. prosecutors examining the relationship between David Samson, the agency's former chairman, and United Airlines.
Samson has been under investigation for possible conflicts of interest at the Port Authority, where he was the top appointee of New Jersey Governor Chris Christie from February 2011 until he quit in March 2014. Samson, 75, announced his retirement Tuesday from the New Jersey law firm that he co-founded in 1972 and that bore his name.
In offering documents ahead of a $775 million bond sale, the Port Authority on Tuesday revealed new details about records of interest to prosecutors probing Samson and United, the largest carrier at Newark Liberty International Airport.
U.S. Attorney Paul Fishman subpoenaed "communications with certain United Airlines executives and/or lobbyists," according to the bond statement. Prosecutors also asked the agency to preserve all records on redeveloping Terminals A and C at the airport; the airline's lease of Terminal C; a proposed extension of the PATH train to the airport; and any flights to and from Atlantic City International Airport by United.
The agency confirmed for the first time that prosecutors subpoenaed travel records by Samson and "any members of his family or party on United Airlines."
Samson's Wife
Fishman subpoenaed records on United flights between Newark-Liberty and Columbia Metropolitan Airport in South Carolina, about 50 miles from a house that Samson's wife owns. The flights, which left Newark on Thursday nights and returned Monday mornings, ran from September 2012 to April 2014, according to Lynne Douglas, a Columbia airport spokeswoman.
United ended the flight just days after Samson left the Port Authority in March 2014. The Record newspaper of Bergen County, New Jersey, first reported Fishman's probe of the trips, saying Samson referred to it as the "chairman's flight."
Megan McCarthy, a United spokeswoman, declined to comment beyond the annual report filed Feb. 20, which said the company was cooperating with prosecutors. Some executive officers and employees got grand jury subpoenas requesting testimony and records about United's operations and about "certain individuals formerly associated with the Port Authority," according to the filing.
Fishman also subpoenaed records related to United's construction of a $35 million hangar at Newark-Liberty for maintenance of wide-body aircraft, according to the bond documents. The Wall Street Journal reported Feb. 23 that prosecutors subpoenaed records relating to the hangar.
Bridge Probe
Beyond the Samson inquiry, prosecutors have conducted a wide-ranging probe of politically motivated closures of access lanes to the George Washington Bridge in September 2013. The tie-ups crippled traffic in Fort Lee, New Jersey, where the Democratic mayor declined to endorse Christie's re-election.
Several Christie allies or appointees resigned or were fired over the scandal. The New York Times reported Wednesday that an announcement of indictments may come next week.
The Port Authority also has received requests for records from the U.S. Securities and Exchange Commission and Manhattan District Attorney Cyrus Vance Jr., which are probing how the agency financed $1.9 billion in improvements to roads and bridges.
Vance has subpoenaed records related to the procurement process for the lease of the observation deck at the One World Trade Center, according to the bond documents.
Dallas Cowboys owner Jerry Jones is a board member of Legends Hospitality LLC, which won a Port Authority contract in 2013 to develop and manage the observation deck on the 100th to 102nd floors of One World Trade Center.
Personal Friend
In January, Jones paid for Christie's trip to see the National Football League's Cowboys play in Arlington, Texas. After criticism of the trip, Christie, a possible candidate for the Republican presidential nomination in 2016, said Jones is a personal friend.
Christie and New York Governor Andrew Cuomo, who control the Port Authority, "called on" commissioners to award the deal to Legends, according to an agency news release in April 2013. The firm was chosen after a "highly competitive procurement process" that took 16 months, Port Authority spokesman Steve Coleman said in an e-mail at the time.
The New Jersey State Ethics Commission also has requested records related to a complaint about possible conflicts of interest involving Samson.
Before it's here, it's on the Bloomberg Terminal.
LEARN MORE