Mugabe Boosts S. Africa Ties in First State Visit Since 1994
Amogelang Mbatha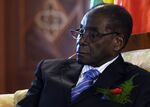 Zimbabwean President Robert Mugabe signed a number of trade agreements on his first state visit to South Africa in 21 years as he sought to boost economic ties and spur foreign investment.
The two countries set up a bi-national commission that will report annually to Mugabe and South African President Jacob Zuma to help strenghthen relations, Zuma told reporters on Wednesday in Pretoria.
Zimbabwe's government is struggling to attract foreign investment since Mugabe, 91, won an election in 2013 that the opposition party, Western nations and domestic observers said was flawed. A liquidity crunch is compounded by a lack of policy clarity, including around the government's so-called indigenization program, which requires foreign companies to cede 51 percent stakes to black Zimbabweans.
"African resources belong to Africa," Mugabe told reporters. Allowing companies to hold on to 49 percent of their assets is "generous," he said.
South Africa is one of the biggest investors in Zimbabwe and companies including Impala Platinum Holdings Ltd. and Nedbank Group Ltd. own units there. Zimbabwe's imports from its bigger neighbor amounted to 24.8 billion rand ($2.1 billion) in 2014, while exports stood at 2 billion rand, according to Zuma's office.
"Our desire is that both countries should have an economy as well as trade that favors both countries," Zuma told reporters. "This is what we are looking for as we implement the agreements we have signed."
AU Chairman
Mugabe has ruled Zimbabwe since the nation won independence from the U.K. in 1980. His last state visit to South Africa was in August 1994 at the invitation of Nelson Mandela, though he's met with Zuma several times on working visits to the country.
While Mugabe has been ostracized by Western nations, he was appointed chairman of the 54-nation African Union in January, a rotating position that's largely ceremonial. He also holds the chairmanship of the 15-nation Southern African Development Community, which will hold its annual summit in the Zimbabwean capital of Harare on April 26.
Before it's here, it's on the Bloomberg Terminal.
LEARN MORE