Le Pen Seeks to Oust Father From Party After Vichy Comments
Gregory Viscusi and Angeline Benoit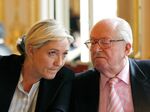 Marine Le Pen has had enough of her father.
The leader of France's anti-immigration, anti-euro National Front signaled in a statement Wednesday that she's seeking to oust her father Jean-Marie Le Pen from the party he founded. She said Jean-Marie Le Pen has "entered a spiral between a scorched-earth strategy and political suicide" after he said he never considered France's wartime collaborationist leader Philippe Petain a traitor.
Jean-Marie Le Pen, in an interview with a right-wing publication Rivarol, said French post-war governments were "too harsh" with Petain and that supporters of the Vichy regime "have their place" in the National Front, or the FN as it is known. Petain was sentenced to death in 1945 and died in prison in 1951.
The open conflict between daughter and father comes as Marine Le Pen seeks to break from the National Front's past as a protest group tinged with racism and Holocaust denial and transform it into a party that she says has a credible shot at the presidency in 2017.
"A break-up was in the offing after years of tension over policy and style differences," said Luc Rouban, a researcher at Paris's Institute of Political Studies. "The FN is now at crossroads, killing the father breaks with a position of protest."
In her statement, Marine Le Pen said she'll oppose her father's candidature at regional elections this year and hold a meeting with leaders to protect the FN's political interests. Candidates for the regional vote will be picked on April 17.
Public Spat
Jean Marie Le Pen's "status as honorary President of the party doesn't allow him to take the National Front hostage with such outrageous provocation," she said in the statement.
The very public spat is drawing support among FN members for a potential ouster of the father by Marine Le Pen.
"The political split with Jean-Marie Le Pen is now complete and definite," FN Vice-President Florian Philippot said in a tweet. "Under Marine Le Pen's guidance, decisions will be taken swiftly."
The 46-year-old Marine Le Pen in 2011 took over the party and has sought to bring it into the French political mainstream, dropping her 86-year-old father's often racist language, and instead focusing on economic issues such as protectionist trade policies and restoring the franc.
Under her helm, the FN has maintained an ambiguous stance on state intervention and public spending to attract voters among the poorest sections of the population as well as among the better-off, from white-collar employees to the self-employed and small business-owners.
Nazi Comments
Earlier this month, father and daughter clashed when he repeated his oft-stated comment that Nazi gas chambers were "a detail" of World War II history.
In a statement of his own, Jean-Marie Le Pen said he will appear before the FN's leaders on April 17 "to express my point of view, that of a responsible and free political man, who has always walked with his head high and his hands clean."
Jean-Marie Le Pen, who stunned France by making it to the second round of the 2002 presidential election, first made the remarks in a television interview in 1987, incurring a 200,000-euro ($216,500) fine. He repeated them in 1997, 2005 and 2008.
Marine Le Pen has sought to distance herself from such comments. Blending economic issues with a nationalistic focus has brought the party respectability and helped improve its scores in elections. In her first go at the presidential race in 2012, Marine Le Pen did better than her father in the first round in 2002, securing 17.9 percent of votes.
The party has won at least a fifth of the vote in recent European and local elections, including a poll last month, and she plans to run for president in 2017.
Louis Aliot, the party's vice-president, said Jean-Marie's comments were "scandalous" and "our political differences are now irreconcilable."
Before it's here, it's on the Bloomberg Terminal.
LEARN MORE