Boston Trial Penalty Phase May Be an Easier Path for Tsarnaev
Erik Larson and Janelle Lawrence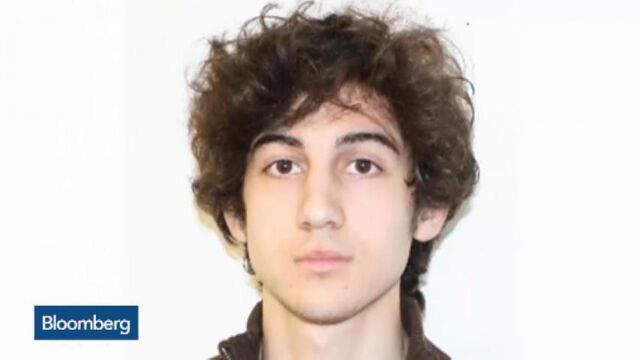 Dzhokhar Tsarnaev's lawyers had no real hope of setting him free, but they have some chance of keeping him alive.
In the penalty phase of the Boston Marathon bombing trial, they need convince only one juror he should live to avoid execution. The defense will take advantage of more relaxed rules to describe why his age and possible manipulation should be considered, as well as sympathetic testimony by friends, family and mental health professionals.
Tsarnaev, 21, was convicted Wednesday of carrying out the biggest terrorist assault on U.S. soil since the Sept. 11 attacks. While the decision by seven women and five men was all but certain, their verdict on whether to send him to the federal death chamber in Terre Haute, Indiana, is less so.
Conceding her client's role early in the trial, attorney Judy Clarke portrayed older brother Tamerlan Tsarnaev as the mastermind. In the penalty phase, she may intensify that effort, using rules that give her room to depict him as a "redeemable person," said Peter White, a former federal prosecutor.
A death sentence would require a unanimous jury. In weighing that decision, jurors will be asked to balance mitigating factors, which could include the influence of Tamerlan, against aggravating factors, such as the ferocity of the attack and the gruesome injuries it caused.
"A finding that an aggravating factor exists must be unanimous, but any finding of the existence of a mitigating factor may be made by one juror," said Dan Collins, a litigator with Drinker Biddle & Reath in Chicago. "It will be up to the jury to decide whether the aggravating factors sufficiently outweigh any mitigating factors such that the defendant should be sentenced to death."
Smoke, Blood
The attack by the two brothers tore through crowds near the race's finish line in 2013, killing two women and an 8-year-old boy. At least 260 others were wounded in a scene of smoke and blood prosecutors methodically described during the 16-day trial in Boston federal court.
The jury, which deliberated for about 1 1/2 days, found Tsarnaev guilty of all 30 counts, including the use of a weapon of mass destruction. The penalty phase is to begin next week.
Clarke made repeated efforts to move the case out of Boston, arguing Tsarnaev couldn't get a fair trial because the region had been traumatized by the attack and a subsequent manhunt through the area. In doing so, she laid the groundwork for what may be the most fruitful avenue of any appeal.
Ninety Witnesses
While the defense hopes to sow doubt among some jurors, prosecutors will seek to convince them all Tsarnaev should die. They are sure to use carnage and loss to stoke outrage, much as they did at trial. Victim testimony will be crucial.
Prosecutors called more than 90 witnesses during the trial, including federal agents who testified the younger Tsarnaev was closely involved in the planning and execution of the attack. The government sought to undercut Clarke's effort to put the onus on Tamerlan.
Clarke presented analysis by the Federal Bureau of Investigation showing only Tamerlan's fingerprints were found on a transmitter used to control the bombs. Tamerlan was killed in a shootout with police during the manhunt.
Tsarnaev remained impassive throughout the trial, which included days of wrenching testimony from victims. While the verdict was read, he stared straight ahead with no visible display of emotion, occasionally crossing his arms.
Tsarnaev didn't take the witness stand, but now that he has been convicted, it's more likely that his lawyers will consider having him do so.
Mitigating Circumstances
Tsarnaev's age will play a key role in the defense fight against execution, said Valerie Hans, a professor at Cornell Law School in Ithaca, New York. Hans said jurors will be asked to consider that he was 19 years old when the attack took place and had no prior criminal record.
"Even more, I expect the defense will do what it can to humanize him -- and perhaps to help explain how he came to participate in the bombing," Hans said.
The role of victims and families will expand in the penalty phase, she said.
"We will see from the prosecution more of the wrenching testimony from victims and their families, this time emphasizing the impact that the bombing has had on their lives," Hans said.
"Victim impact evidence can have a powerful effect on jurors."
Aggravating Circumstances
Pictures of blood and severed limbs in the aftermath of the attack, as well as its destruction to lives and families, played a large role in the prosecution's case. They could be even more present in the penalty phase.
"The prosecution will likely argue that some crimes are so heinous the death penalty is the only appropriate sanction," said White, of Schulte Roth & Zabel LLP. "In other words, if not this case and this defendant, then when?"
During the trial, prosecutors portrayed Tsarnaev as a self-radicalized terrorist who sought to kill marathon spectators out of anger toward U.S. foreign policy and its effect on Muslims. He declared his motives in pencil on the inside of a boat where he hid while police hunted him and his brother.
Jurors Wept
Jurors wept often during the trial, including when they reviewed autopsy photos of the victims and heard medical examiners testify in clinical detail about the process of bleeding to death from blast injuries.
The government's last witness was the state's chief medical examiner, Henry Nields, who testified about the death of 8-year-old Martin Richard. There was almost no part of his small body that wasn't injured, Nields said. His stomach and spinal cord were almost cut in half, his left arm was practically severed, and he suffered third-degree burns.
Jurors also saw the shredded bloodstained clothing the child wore on the day he died, and a pile of small nails, BBs, wood and metal fragments extracted from his body. They saw a belt someone had tied on him as a tourniquet.
Such vivid testimony is likely to be highlighted by federal prosecutors as they seek Tsarnaev's execution.
"In a case where the defense conceded that Tsarnaev committed these crimes, the verdict is certainly no surprise," said Mark Pearlstein, a former federal prosecutor. "The real battle -- the fight about punishment -- now begins."
The case is U.S. v. Tsarnaev, 13-cr-10200, U.S. District Court, District of Massachusetts (Boston).
Before it's here, it's on the Bloomberg Terminal.
LEARN MORE