Manhattan Office Leasing Declines as Tenants Priced Out
David M. Levitt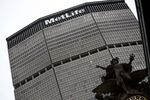 Manhattan office leasing extended a decline in the first quarter, falling to the lowest level in a year and a half, as rising rents and a lack of affordable options caused some tenants to hold back on new agreements.
Deals were signed for about 6.8 million square feet (632,000 square meters), down from 12 million square feet a year earlier and a record 12.7 million square feet at the end of 2013, according to brokerage Savills Studley Inc. Another real estate firm, Colliers International, showed a 30 percent year-over-year slump in leasing.
The slowdown reflects a decline in lower Manhattan, where record rents may have priced out many of the growing technology and media companies that had led demand. The area is also home to new towers such as 1 World Trade Center, which have added to supply and command higher rates than more affordable space that has already been taken.
"Midtown tenants were heading downtown because the bargains were so great," Joseph Harbert, Colliers eastern region president, said in an interview Tuesday. "They were going down for value. They don't seem to be doing that anymore."
Leasing downtown fell 66 percent to 806,000 square feet in the first quarter from a year earlier, according to Colliers. Rents rose 9.4 percent to $55 a square foot, a record.
Manhattanwide, leasing remained above the five-year average, Harbert said, calling the recent declines an "anomaly." Several large agreements are in the works that will probably make the first quarter look like a "pause" rather than a trend toward a slowdown, said Craig Lemle, a senior managing director at Savills Studley.
"The biggest contributing factor in Manhattan's decline in leasing volume is the more limited availability of value plays in lower Manhattan," Lemle said in an e-mail. "Options at the lower end of the market have been depleted."
MetLife, WeWork
The first quarter's biggest lease was by insurer MetLife Inc., which agreed to consolidate from locations at Bryant Park, Park Avenue and Long Island City in Queens to about 530,000 square feet at its namesake building in Midtown.
The largest lease in lower Manhattan was by WeWork Cos., the office-sharing company that specializes in Internet firms, which took 235,000 square feet at 85 Broad St., Goldman Sachs Group Inc.'s former headquarters. WeWork also took 37,000 square feet at 11 John St., for downtown's fifth-biggest deal.
Among the large deals that have a strong chance to be completed by the end of June is a pending lease by law firm Skadden Arps Slate Meagher & Flom LLP at 1 Manhattan West, a skyscraper to be built by Brookfield Property Partners LP in the Hudson Yards area on the far west side, Lemle said. Brookfield also is talking to a second law firm about renting space in the 2 million-square-foot tower, he said.
Melissa Coley, a spokeswoman for Brookfield Property Partners, said the company would have no comment on lease negotiations.
Construction Boom
New York is in the midst of its biggest office-construction boom in a quarter of a century, with skyscrapers rising in Hudson Yards and the World Trade Center. In Midtown, a tower is nearing completion near Bryant Park, another is just starting on Park Avenue, while SL Green Realty Corp. is close to getting approval for a 1.6 million-square-foot building next to Grand Central Terminal.
Tenants don't "need to be in a super-rush to make a commitment" to a Hudson Yards office, since they believe they can wait for them to be built, Lemle said. Similarly, companies have been "taking their time to consider the merits" of space at the World Trade Center, according to the Studley report.
Trade Center
At the World Trade Center, 7,424 square feet of offices were leased in the first quarter -- all in two deals at 1 World Trade Center, one of the two towers open at the site. Last year, about 340,000 square feet of agreements were were done at 1 and 4 World Trade Center, which have almost 2 million unrented square feet combined.
Lemle said he expects more activity at the two towers in the second and third quarters.
Landlords downtown will see additional competition from 28 Liberty St., the building formerly known as 1 Chase Manhattan Plaza, where 985,000 square feet of former JPMorgan Chase & Co. offices were put on the market, according to Savills Studley. The space contributed to a 1 percentage point increase in Class A office availability in lower Manhattan, to 17 percent.
Fosun International, Chinese billionaire Guo Guangchang's investment company, paid $725 million for the building in late 2013, then the biggest purchase of a New York building by a Chinese company.
New landlords have been pushing rents higher after buying buildings, Lemle said.
"There have been a lot of sales of buildings, and a new buyer comes in with a pro-forma, and sometimes that may be a little too aggressive," Lemle said. "They have to wait for the market to catch up."
Before it's here, it's on the Bloomberg Terminal.
LEARN MORE