It's Only Taking a Few Years to Flip a NYC Condo for Huge Profits
Oshrat Carmiel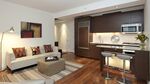 Tom Vitale bought a small Manhattan condo in August 2012, planning to keep the investment for about four years, or long enough to make at least a 15 percent return. When he listed the apartment ahead of schedule, the gain was more than double his target.
"I didn't expect that," said Vitale, who sold the 536-square-foot (50-square-meter) studio in January for $859,000, 34 percent more than his purchase price. "It boils down to lack of inventory. There's not a lot that the entry-level buyer can afford."
Owners of Manhattan apartments are reaping fast returns when they sell in short time frames, benefiting from a market starved for listings that are within reach of non-millionaires. Buyers of condos in 2012 who resold their units in the second half of last year saw a 37 percent gain on average, according to an analysis by CityRealty.com. Those who purchased condos in 2013 and sold within the same six-month period had an average return of 22 percent.
"You're sitting pretty if you're someone who bought over the last few years," said Gabby Warshawer, director of research at CityRealty, a New York residential data and listings website.
Luxury Focus
Manhattan developers who began projects after the credit crisis are focusing almost exclusively on building large, luxury units as a way of recouping the soaring costs of land and construction. That's in contrast to the boom of the mid-2000s, when there were more "midrange" apartments built in high-density projects, some with more than 200 units, Warshawer said in an interview.
"Now when people go to resell them, they're not super-old and they're still much cheaper than the ultra-luxury product," she said.
The median sale price for existing condos in Manhattan jumped to a six-year high of $1.3 million in the first quarter, driven up by buyers seeking alternatives to out-of-reach new developments, brokerage Corcoran Group said in a report last week. Much of the price growth in condo resales is for smaller apartments, according to Jonathan Miller, president of New York-based appraiser Miller Samuel Inc.
'Sorely Needed'
"We're not building those anymore, and that is what's sorely needed in the market," said Miller, a Bloomberg View contributor.
In West Chelsea, the owner of a 785-square-foot two-bedroom apartment at 422 W. 20th St., near the High Line, sold the home on Feb. 23 for $1.43 million, or 48 percent more than it was purchased for in December 2012, according to CityRealty. At Battery Park City's 225 Rector Place, the person who paid $652,000 for a 760-square-foot condo in May 2013 resold it in January for $795,000, or a 22 percent return.
The seller of a seventh-floor unit at 50 Franklin St. saw an 18 percent gain after owning the Tribeca apartment for less than a year and a half, CityRealty data show. The one-bedroom condo, in a building with a pet spa and a furnished guest suite, sold for $1.17 million in February, up from the purchase price of $995,000.
"People that were looking for a place to live and saving money from the high cost of renting are now looking like they were Warren Buffett," Miller said. "Things have worked out really well for them."
Sellers in New York benefited from a stronger market than the U.S. as a whole. In February, the median existing-condo sale price nationwide was $190,200, up 9.5 percent from the average in 2012, according to the National Association of Realtors. Compared with other types of investments, the return is mixed. The Standard & Poor's 500 Index gained 67 percent from the end of 2011 through February. Gold fell 22 percent, according to Bloomberg generic pricing.
Panoramic Views
Vitale, a former Verizon Communications Inc. executive who bought the studio as an investment for rental income, paid $640,000 cash in 2012 for his condo at Twenty9th Park Madison on East 29th Street. The building, completed in 2009, includes amenities such as a fitness center, yoga room and a roof deck with fire pits and panoramic city views, according to property listings. Vitale, 53, the principal of a design firm he started in 2013, had been renting out the unit for about $3,000 a month, he said.
He listed it for sale in November after he and his broker, Timothy Burch of Stribling & Associates, decided the apartment, with teak floors and an open gourmet kitchen, would be well received by first-time buyers seeking a relatively new home.
"We were looking at everything under $1 million as a condo in all the surrounding neighborhoods, and there wasn't anything," said Burch, who represented Vitale when he bought the property in 2012 and in the resale this year. "I realized he could easily get over $800,000 for it."
Offers initially came in from other would-be investors before the sale closed 52 days later to the buyer who, seeking to live in the apartment, agreed to pay closest to the asking price, according to Burch.
Value Boost
Vitale said he'll also eventually sell a one-bedroom condo he owns at 422 W. 20th St., which he bought in 2012 and rents out for $3,850 a month. He's waiting at least a year before listing the High Line-area home, in a building where residents have key access to a private park.
Bigger and costlier developments rising in the neighborhood will help boost the value of his property, allowing him to make an even bigger return on the resale than the 34 percent gain on his January deal, Vitale said.
"Nice amenities, good building, hot location," he said.
Before it's here, it's on the Bloomberg Terminal.
LEARN MORE