Goldman Sees Many Iron Mine Closures as ABN Flags $40 Risk
Jasmine Ng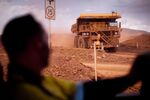 The global iron ore market needs to lose a significant number of high-cost mines over the next three years amid a growing surplus, according to Goldman Sachs Group Inc.
Mining companies with weak balance sheets and that are unable to cut costs are unlikely to survive, analyst Christian Lelong said by e-mail in response to questions. Supply hasn't been very responsive to falling prices so far, and there's been little support for iron ore as it dropped through $50, he wrote.
Iron ore tumbled below that level last week as surging low-cost production from the largest miners including BHP Billiton Ltd. and Rio Tinto Group boosted a glut. Australia's Atlas Iron Ltd. suspended its shares from trading in Sydney on Tuesday while it reviews operations after the plunge. When markets are oversupplied, prices have to decline until marginal production is forced to exit, according to Lelong.
"Regardless of the outcome of the Atlas review, many producers will not survive this bear market," Lelong wrote. "In the short term, price volatility and the lack of cost support could spring further surprises."
Ore with 62 percent content at Qingdao rose 0.6 percent to $48.34 a dry ton on Thursday, according to Metal Bulletin Ltd. Prices fell to $47.08 on April 2, the lowest since 2005, based on daily and weekly data from Metal Bulletin and annual benchmarks for ore delivered to China compiled by Clarkson Plc. The raw material fell 32 percent this year after losing 47 percent in 2014.
'Price Crisis'
An iron ore "price crisis is now with us and will persist," Credit Suisse Group AG said in a report on Thursday that cut its forecast for this year to $51 from $73. Rates need to be punitive enough to push marginal miners out of operation, and iron ore is reaching that level, the bank said.
Current prices threaten the existence of many producers, even as loss-making miners won't immediately choose to shut, according to Lelong. Instead, they may continue in the belief they may eventually return to a break-even position, he said.
Some suppliers can tolerate lower prices for longer as weakening exporters' currencies combine with cheaper energy prices to cut mining costs, Deutsche Bank AG said March 31. The bank predicts that prices may drop to less than $40.
"Of course, you can see" prices dropping below $40, Piet-Hein Ingen Housz, global head of metals at ABN Amro Bank NV, said by phone. "It's definitely not sustainable. If that happens, it will happen only for a very short period of time."
Forced Out
China, which buys about two-thirds of iron ore transported by sea, grew last year at the weakest pace since 1990 and will probably slow further in 2015. The country's consumption of iron ore will probably remain weak as steel demand contracts, the China Iron & Steel Association said Tuesday.
Next year "is likely to be an even tougher year than 2015 for prices as China steel production declines persist," Credit Suisse said. "High-cost production must be forced out."
The seaborne glut will probably widen from 47 million tons this year to 260 million tons by 2018 as low-cost supplies expand, Goldman said in a report in January that cut the bank's price forecasts to $66 for this year and $61 in 2016.
Producers' shares diverged this year as iron ore dropped. Melbourne-based BHP rose 5.3 percent in 2015 in London trading, while Rio lost 5.2 percent. In Sydney, Fortescue Metals Group Ltd., Australia's third-largest shipper, tumbled 31 percent, BC Iron Ltd. sank 44 percent and Atlas Iron fell 27 percent before the stock suspension.
Before it's here, it's on the Bloomberg Terminal.
LEARN MORE